tic tac Dilemma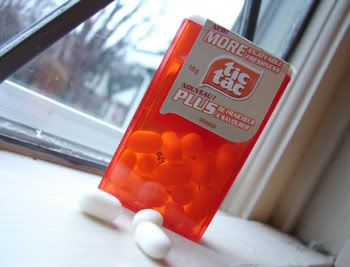 Not too long ago
I ran into a problem when a grocery store failed to charge the correct price for some
cookies.
The Supermarket Scanning Code of Practice came into the picture.
This story
has a better ending.
Just after Christmas
Suz and I were shopping for usual things at the local food emporium when a glint of orange caught my eye. The delicious tic tac Stocking Stuffer package sparkled in the fluorescent grocery store lights, tempting me to take a closer look.
Upon inspection
of the tasty tic tacs, I discovered the Christmas-themed pack was on sale for half price. Instead of $2.99 for 5, they were $1.50.
After some
Martini-style whining, I convinced Suzy Q it was the deal of a lifetime. We purchased the tic tacs. However, the scanner indicated full price: $2.99. Suz made mention of this to the cashier who replied, "Oh, well I guess they're free then!"
"Thank you!"
I waved, as Supermarket-Scanning-Code-of-Practice-Man flew up, up and out of sight.
On the short drive
home Suz and I got into an arguement. Well, she likes to call them discussions. She said that tic tacs were candy, while I opted for the 'mint' point of view.
Her arguement
was enhanced by the fact that the first ingredient of tic tacs is sugar. I conceded that point, but insisted they were mints for two reasons: That's how they're marketed, and even the 'Nutritional Facts' label says
"per 3 mints"
.
So, I propose
a poll. Are tic tacs candy, mints, neither, or both?
Click here
to take the poll, which opens in a new window.