It's A Boy!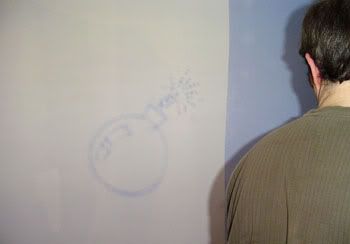 Ever wonder
where the colour scheme
blue is for boys, pink is for girls
came from?
I don't
have the answer. But I did spend my weekend painting a blue bedroom for my friends and the blue bundle they're expecting, followed by helping my parents paint their master bedroom a delightful yellowy bile colour.
But
who's to say blue has to be for boys? I say Bombs are for boys.
While smearing
a blue-tinted chemical all over the walls of a baby's room, I had a little fun. Bombs, bums, people getting shot and a beautiful palm tree, complete with coconuts.
Although you
might think some of these images are not appropriate for a baby's room (or anybody else's for that matter), remember: babies can't see. Or understand.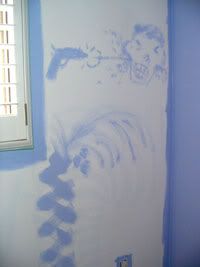 And, these crude blue temporary paintings are certainly better than what used to cover these walls: Life-sized, frightening, hungry jungle animals.
Okay,
they were not exactly "life-sized", but they were huge, floor-to-ceiling, and they were most definitely frightening. Jamie, an innocent toddler friend of ours, screamed for her life upon viewing these enormous hand-painted animals.
And she spent
the whole day watching Madagascar over and over again! That movie features nearly all of the animals that blessed these walls: a zebra, a lion, a giraffe, and some others. Which really proves just how incredibly scary these painted animals must have been, driving an animal-loving toddler into hysterics and all.
How the
previous owner's offspring managed to live in that room is beyond me. But that kid is gone, along with all the animals. Unfortunately, so is poor Jamie's bladder control whenever she sees a kitten or a birdy.