Cadbury Mini-Eggs or Hershey's Eggies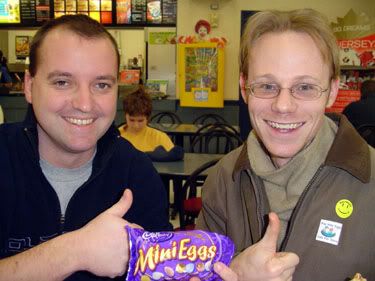 I have a lot of respect
for a girl who stands up for what she believes in, especially when it's something as crappy as Hershey's Eggies.
When Cadbury
jumped on the Easter scene with their silky chocolate eggs coated in a delicious candy shell, there must have been a lot of unrest over at their rival's head office.
Hershey quickly
threw a game plan together, gathering their most brilliant minds in the corporate boardroom. They stayed late every night tossing ideas back and forth.
Somewhere
along the line, somebody decided their best idea was to duplicate Cadbury mini-eggs exactly. But it didn't really work out that way. Why? Because when you take an inferior vomit-inducing chocolate, and cover it in an inferior vomit-inducing candy shell, you end up with vomit-inducing garbage.
But they
did it anyway. They took their crap, coated it in some more crap and ended up with... yep, you guessed it. Crap. Their logic? People will still buy them because the bags will be bigger!
I don't know
what kind of strategy that is, but it sounds bad. Manure comes in big bags too! Does that mean manure will outsell Hershey's Eggies? Given the choice, I think most people would rather eat the bag of manure.
At our local
Wal-mart, Hershey's Eggies were selling like hotcakes. Until my friend
ST3
noticed that Cadbury's Mini-Eggs were not on the shelves. Of course Eggies were selling well without any competition. ST3 dared his co-worker to put out Cadbury's Mini-Eggs. In the spirit of fair play, she did, putting them side-by-side on the shelf.
So, let
the competition begin! Cadbury's Mini-Eggs vs. Hershey's Eggies. If the local Wal-mart sells more Mini-Eggs by week's end, ST3 wins a bag of yum. If the Eggies sell more, he has to buy his co-worker a big bag of Hershey's Crap-Balls.
----------------
Which do you prefer?
Vote now!