Suicide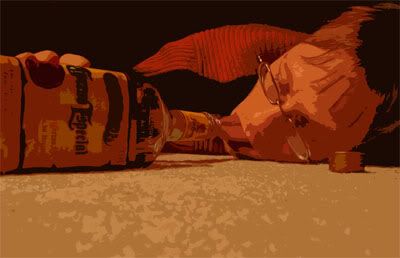 You know
what Captain Obvious says:
the squeaky wheel gets the grease.
My doctor
had a practice he shared with his son, but when my doctor suddenly died in November, the son was left to handle all the patients by himself. My Monday appointment turned into a classic, Martini-style fiasco.
At 2:00
I sat in the crowded waiting room for my 2:15 appt. I knew it would be a long wait - but I didn't have to wait long for some entertainment.
Around 2:30
a woman reeking of perfume sat down in the basement waiting room. The girl beside her had a fit about the perfume, declared to the nurse she was going upstairs where she could breathe, and proceeded to cough all the way up the stairs.
During the next
20 minutes I watched my doctor struggle on crutches to reach each patient's room.
I felt
really bad for him. But things were about to get worse.
"What The Hell Is Going On Around Here?? Did you forget about me upstairs?"
came the screeches of the irate woman.
The nurse
tried to calm her down and reassure her that nobody forgot about her. But that's like trying to tell a donkey that he's really a cucumber.
"How much longer do I have to wait?"
she screamed.
"I can't wait another 2 hours for my appointment! I have to get back to work! My mother had to drop me off here and now I have to get back to work, and it's going to take me an hour because I live in the country! What are you going to do?!"
The nurse
said she'd try to speed things up and the irate Janice stormed back upstairs. I glanced around the room. Everybody was staring at the ground, as though afraid for their lives, while I was enjoying the show.
It was 3:15
when Janice returned, yelling as usual.
"I can't wait! I have to get back to work! I have been waiting for 2 hours for my appointment! I cannot wait any longer. My appointment was at 2:45 and I can't wait any more! Look at where my file is! Look how many people are ahead of me! LOOK AT WHERE MY FILE IS!"
she screamed as she pounded the counter where everyone's file was lined up in appointment-order.
While the nurse
tried to calm her down and clam her up, I took a few moments to do some math. I arrived at 2:00 for my 2:15 appt. She was there before me, yet her appt. wasn't until 2:45. Had she gotten to her appt. on-time, she only would have been waiting for 30 minutes. She left work far too early for this 2:45 appt. and only has herself to bla....
My thoughts
were interrupted by Janice's frightening explosion of anger.
"I CAN'T EVEN GET AN APPOINTMENT WITH YOU BECAUSE YOU NEVER CALL ME BACK! I'M ON SUICIDE WATCH AND YOU DON'T EVEN CARE ABOUT ME! MY DOCTOR DOESN'T CARE ABOUT ME! NOBODY CARES ABOUT ME! AM I SUPPOSED TO CHECK MYSELF INTO THE PSYCH WARD?"
"I
did
call you back, and that's how you got this appointment." replied the nurse.
Janice disagreed, screaming
"NO, YOU DID NOT CALL ME BACK! HOW DO I KNOW THIS? BECAUSE THE POLICE OFFICER WHO IS STAYING AT MY HOUSE ON MY SUICIDE WATCH TOLD ME TO CALL YOU AGAIN AFTER YOU DIDN'T CALL ME BACK! DO YOU KNOW WHAT IT'S LIKE TO TRY TO TAKE YOUR OWN LIFE? DO YOU??"
"Yes
, I do." replied the nurse.
"YOU KNOW WHAT IT'S LIKE TO TRY AND KILL YOURSELF?
Janice continued.
"YOU KNOW WHAT IT'S LIKE TO BE ON SUICIDE WATCH? I AM ON THIN EGGSHELLS HERE, AND I HAVE TO GET BACK TO WORK! IF I DON'T WORK, I LOSE MY HOUSE! DO YOU KNOW WHAT THAT'S LIKE?? WHAT THE HELL IS WRONG WITH THE DOCTOR?!?"
The nurse answered
, "He was hit by a car. Do you know what that's like?"
Janice lied:
"Yes, I do!"
then asked,
"Now What Are You Going To Do To Get Me In?"
The nurse turned to me.
But it didn't surprise me. I knew it was coming. That's my luck. I said she could have my spot and they both thanked me. Janice promptly ran back upstairs and I spoke to the nurse, who thanked me over and over again.
In total,
I was bumped back eight places, resulting in another 2 hour wait, which I was not prepared for. I chose to reschedule, and left. As I exited the building, I passed Janice who asked, "Yer not leavin' are ya?"
"Yeah.
I also have a job." As I walked out the door, I did not turn around. "Other people have problems too you know."
I thought
about the whole surreal, absurd event and decided that Janice was not suicidal, nor was she on suicide watch. The things she screamed at the nurse just didn't make sense. I believe,
if
she did attempt suicide, it was purely for attention, just like her 'display' at the doctor's office.