Nightmare Anniversary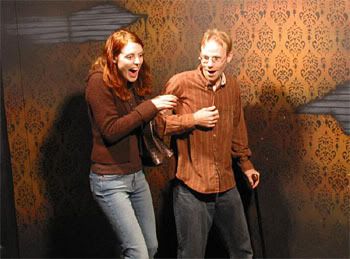 Years ago
Suz and I made an agreement. Instead of buying cheap Walmart gifts that make each other cry like we were punched somewhere special, we'd take a little trip on our anniversary. This year our anniversary ended, quite literally, with Nightmares.
Niagara Falls,
surrounding the Horseshoe falls, has developed over the years to become an incredible tourist attraction. There is so much love in Niagara Falls that it has come to be known as the Honeymoon Capital of the world. Whether that's true or not is unknown to me.
What I do know
(which, admittedly, isn't much) is that my love for the falls falls into the category of Halloween. What's Halloween without fear and monsters and haunted houses? The Falls delivers the latter in spades! Castle Dracula! The House of Frankenstein! The Haunted House! And of course, Nightmares.
A couple
of years ago we went through The Haunted House. Full of skeletal displays, pneumatic fright devices and moderately lit passages, this one was for the faint of heart. While most certainly fun, it was nothing to be afraid of.
This year
Suz begged and begged me to go through
"Nightmares Fear Factory"
, which was located up the hill, apart from the main attractions. On our last day, just before driving home, I decided it was time.
==Spoiler Warning==
(While I do not want to ruin the experience for anyone I do reveal two small details below which you would discover almost immediately for yourselves anyway)
Upon entering
I posed two irrelevant questions to the abandoned coffin factory's proprietor: 1. Is it pitch black? 2. Are there any moving floors that might cause me to fall with my cane?
I say
the questions were irrelevant because five minutes after he answered "
Yes
" to both, we were deep in horror territory, with Suz clutching my arm as hard as she could. For a girl who was
dying
(pardon the pun) to go through this haunted coffin factory, she was absolutely terrified.
As you can see
in the photo, I spent the entire time merrily leading the way. I could hardly contain my laughter throughout the experience. It's not that the tactics used in this haunted house were funny, no - it was Suz's constant blood-curdling screams... and I was having a ball.
Two Martini-thumbs up
to Nightmares for their creeptacular haunted coffin factory... despite the fact that there is little visual creepiness to enhance the experience.
Labels: Halloween, haunted house, vacation