2009 Chevy HHR Review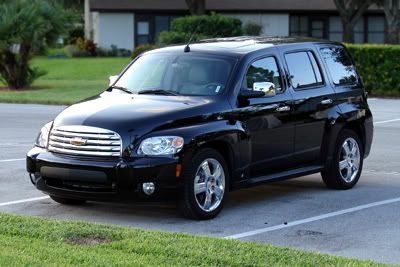 "
Take any one you want. The keys are in 'em
."
The words echoed
in my head as I left National's car rental office a little nervous, and a little excited. Suz and I had arrived in Tampa, beginning our Florida vacation on the eve of Hurricane Fay's departure, and the weather was strange.
I walked
up and down the compact car aisle, waiting for something unique to catch my eye. And it did.
The Cheverolet HHR.
Wait, scratch that. What really got my attention was the little badge in the corner of the tailgate. A badge that glinted in the unnatural glow of the security lights. A badge that read Flex Fuel E85 Ethanol.
This was
a beautiful looking vehicle in all respects, and I was excited to drive it, even if only for the fact that both the HHR and myself were powered by the same thing: corn.
E85 fuel
is a mixture of 85% ethanol and 15% gasoline. Knowing you may not get the mileage of pure gasoline may bring a frown to your face, but knowing you're helping stave North America's dependency on foreign oil should turn your mood around.
As an added bonus, E85 fuel produces less harmful emissions than those regular fossil fuel-burning engines. And cleaner air makes everyone more comfortable.
Now,
if there is one thing GM knows well, it's comfortable seating. And I found no deviation here. Inside I was greeted by a supple leather driver's seat that was soft and snug. The steering wheel shared the same leather and felt very substantial in my hands. Every control was logically placed and knobs, stalks and buttons all felt and moved excellently.
Spending eleven days
so close to U.S. 19 gave me a good opportunity to test out the HHR's characteristics in busy, aggressive traffic. The 155 horses propelling the HHR moved it well, but uphill battles seemed lost due to slightly lacklustre torque output of 150 lb-ft.
For a
tall vehicle the HHR handled quite well, offering minimal body roll even in tight U-turn situations. Where the suspension's weakness could be seen however, was in every grocery store or mall parking lot in America. Speed bumps were the HHR's achilles heel, sending vehicle occupants bouncing up and down like some wild pogo stick ride.
The biggest problem
I found was visibility. Small windows really make the retro look of the HHR, but didn't lend themselves well to safe driving. Being the first car to pull up to a red light, I found that I had to stop almost an entire car length away from the crosswalk in order to see the stoplights suspended above me. I was constantly bending down and looking skyward to see when I was allowed to proceed. Shorter drivers may not have this issue, but at 5'7", I did.
The Chevy
did have a few surprises including a factory remote starter. I didn't think I'd ever want or use one, but after hopping into a cooled space on those scorching 98F days, I believe I was mistaken.
Overall
I enjoyed our outings in Chevy's answer to Chrysler's PT Cruiser. My biggest disappointment came when trying to locate the very reason I chose the HHR in the first place. I think I saw more unicorns during those eleven days than I did gas stations offering E85 ethanol fuel.