Costumed Caterpillar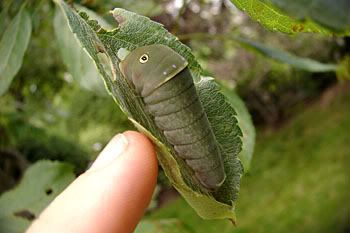 August is here
, and with it comes the 3 H's; Heat. Humidity. Halloween. That's right I said it. Halloween.
The Ween bug
bites me every summer as I begin preparing for my annual Halloween bash. And, as is the custom, I've spent the last couple of days searching the web for exciting Halloween stuffs. So what could be more appropriate than what I found today in my backyard - a caterpillar with a scary costume.
Our crabapple
tree, reaching down as though trying to bitchslap your face with its low-hanging branches, startled me when one of its guests nearly hit me in the forehead. It was one of the strangest caterpillars I've ever seen.
It was
a bizarre, smooth, sort of quasi-transparent snot colour, and much fatter than any other I've encountered. But that wasn't the weird part. It was the eyes. Almost neon yellow, the predator-frightening eyes were false. As Suz said, it almost looked like it was wearing a mask. And for a brief moment she actually thought I had somehow sneakily painted the eyes on without her seeing.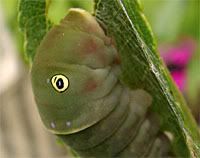 This amazing caterpillar
with its bright fake eyes is a much more welcome caterpillar than the ones we had
last year
, which incidentally, killed my neighbour's crabapple tree, leaving only a skeleton of empty, grey branches. I am happy to have this unique caterpillar, a bricklayer by trade, living in my tree.
And when
he builds his sturdy home, I hope he stays protected from the Blue Jays that have a nest nearby. Because when the time comes for him to emerge, he will, like Denis DeYoung, throw away his mask a la Mr. Roboto - and reveal himself as an Eastern Tiger Swallowtail butterfly -
not
a la Mr. Roboto.
And I
can't wait to see him, because according to the Canadian government, this kind of butterfly is rare in Canada. And mighty tasty.
Labels: butterfly, caterpillars