Claudia Wells Is #1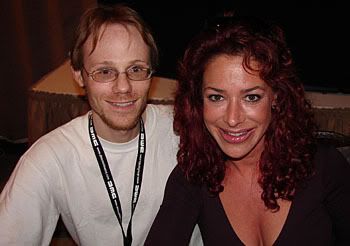 Celebrities sell.
Watching my blog's stats I've discovered that the number 1 search that brings readers to my blog is Claudia Wells, aka Jennifer Parker from Back To The Future. I'm not sure if people are looking for information on her store, Armani Wells, 12404 Ventura Blvd., Studio City CA, 91604, Phone (818) 985-5899... or they're simply looking for a
photo of Claudia Wells.
Whichever they need, DMC&ME delivers! (As long as it's photos with me in them)
I first met
Claudia in 2006 at the Chicago show, or DCS 2006. I talked with her a little bit, learned a little about her high-end clothing store, mostly by eavesdropping, and generally had a really great time.
This year,
at DCS 2008 Gettysburg, things were a little different. Although the actors still mingled and chatted with us, there was also a strict schedule to stick to for things like signing autographs and taking pee breaks. And that is the reason I wasn't able to have James Tolkan, aka the awesomely strict
Mr. Strickland
, sign my copy of the Back To The Future trilogy. Suz and I were busy touring the battlefield Saturday, and I'm sure I'd be declared a slacker for not trying hard enough to make it back to the Hotel.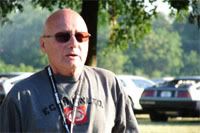 But I'm glad
to say I was able to talk with Mr. Tolkan during dinner on the first night. However, I felt that he would've been more comfortable entertaining a crowd than having a 1-on-1 conversation with a stranger pointing a camera in his face in the middle of a field...with no police in sight. Now
Jeffrey Weissman
, aka
George McFly
(BTTF II & III) is a different story. It's safe to say Jeff has as much fun with intimate conversation as he does up on stage with a thousand ears listening to him. (And even more fun with frisbees in the pool.)
When he
first approached me, I was a little shocked to see that Jeffrey (seemingly?) remembered me from the Chicago show. A few minutes later Suz, myself and Jeffrey boarded a tour bus bound for the battlefields of Gettysburg.
During our excursion
we chatted a bit, and listened intently to our tour guide's enthralling telling of the one of the Grim Reaper's busiest 3 days ever. This is when I learned of Jeffrey's friend. A friend who, before passing away, had compiled a book of poetry written by U.S. Civil War soldiers.
Sensing our interest
in the book which was just published a few months ago, he kindly offered to send us a copy. Before we left, he gave me his email address and offered to stay in touch. It was a fantastic way to end the DCS 2008 Gettysburg vacation.
Armani Wells website.
Labels: Back To The Future, celebrities, Claudia Wells, DCS 2008, DeLorean, Gettysburg, James Tolkan, Jeffrey Weissman, vacation