Becel Ride For Heart 2008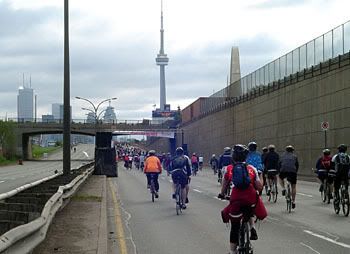 Renovations
have kept me from updating regularly but I thought it was important to squeeze some time in for the Becel Ride For Heart 2008, since the 12,000 riders, including myself, helped raise $3 million for Heart & Stroke research.
For the
second year in a row I rode on the Gardiner and the DVP, amongst the largest group of squeaking, creaking, neglected bikes I've ever seen. Within seconds I knew there was something special about 2008, as an erratically weaving child skillfully wiped out 3 other riders including an adult who was paying attention to the whole disaster unfolding before him - but, like a nightmare, could do nothing to avoid it.
It wasn't long
after that incident that two arrogant participants on road bikes nearly caused another such wipeout as they came within an inch of knocking me down attempting to slip between myself and another rider.
My exclamation,
"
Be Careful
!" went ignored and I continued pedalling into the cold June wind, occassionally pulling up beside groups of riders and listening in on their conversations about life, spam and excrement. Which is really all the same thing.
I was starting
to feel a little sad riding by myself, but soon something cheered me up. As I approached a tunnel before the half-way point, I heard a rider ding their bell. A few seconds later a higher pitched bell dinged. I didn't realize what was happening until I was inside the tunnel, suddenly enveloped with the melodious sound of 20 different bells reverberating off the tunnel walls. We exited the other side, and as abruptly as it started, everything was quiet and the only sound heard was the rhythmic roar of tires on asphalt.
Due to
a strong headwind on the way back, and the fact that I didn't train this year, the ride took me half an hour longer than it did last year. I rode a total of 34 miles, or 54 kilometres. I kept my eyes open, but I never did see
the dude with the bright orange Trek.
Becel Ride For Heart 2007
Labels: Becel Ride For Heart