Stag & Doe #1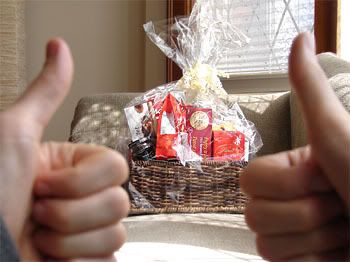 Ah, spring.
The rainy season. April showers not only bring May flowers and flooded basements, but an abundance of weddings and wedding related events. Events such as the ever popular Stag & Doe.
Stag & Doe
parties are designed to raise funds for the poor, struggling bride and groom who've not a penny to their name and have no hopes of paying for their extravagant wedding unless they can squeeze a few bucks out of every friend, distant relative or acquaintance. In fact, if a blood-soaked stranger grinning from ear to ear and mumbling about his 'sweet revenge' walked in off the street with cash in hand he probably wouldn't be turned away.
Suz and I
spent Saturday night at a Stag & Doe for our co-worker James whom I first met in the parking lot at work when he challenged me to a race. The race was immediately called off upon James' discovery that the ol' Talon was putting out nearly triple the horsepower of his Toyota Celica.
The Stag & Doe
was a well-organized blast, with cheap drinks, great food and even greater prizes to be won. Suz and I bought twenty raffle tickets and distributed them among the prizes we'd hoped to win.
Suz, abiding by
the rule of "
don't put all your eggs in one basket
" applied her tickets towards various prizes, hoping to win just one of them. I, on the other hand, decided to put statistics into my favour, and plopped all of my tickets into the one prize I wanted the most.
At the end
of the night, both our tactics worked as Suz won a 'Fancy
Cut n' Hairstylin
' Certificate and I won the
'Gourmet Gift Basket
.' The basket's awesome international contents are as follows:


President's Choice White Chocolate Chunk & Raspberry cookies


Bahlsen Truffet Meringue/cocoa/chocolate biscuits


Vicenzi Grisbi Classic Lemon & Ginseng biscuits


Lindt Lindor milk chocolate bar


Lindt Lindor milk chocolate balls


Werther's Original caramels


St. Dalfour Wild Blueberry Deluxe Spread, or 'Jam' to us reg'lar people


Carr's Poppy & Sesame Thin Savoury Crackers


Starbuck's Latin America Medium House Blend coffee, and finally...


a box of 8 massive Mrs. Fields Semi-Sweet Chocolate Chip cookies
I suspect
a tummy ache of Snuffalupagus proportions is right around the corner.