Sign Of Spring: Construction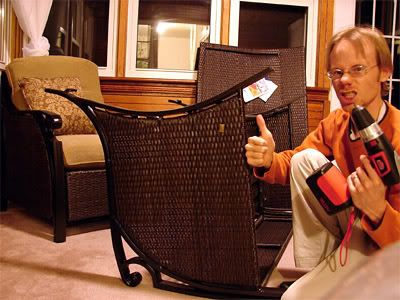 The signs
of spring are here. And depending on your personality, they are either good or bad, because a sign of spring is also a sign of things to come. Namely, work.
As spring rolls
around, things start needing to be done. On the upside, BBQs, decks and patio furniture all need building. On the downside, silly little girly flowers need to be planted. Planted everywhere. Planted in obvious places, where your neighbours can see them and then make fun of you.
I, for one
, am glad it's still a little too cold for gardening right now. That means I can spend my time indoors getting better acquainted with my drill.
Upon completing
the renovation of our sunroom, Suz and I decided it would be nice to be able to actually use it the way it was meant, rather than the catch-all it's currently, and inappropriately, designated as.
So, in hopes
of spring weather filling our sunroom with sun and happiness, I spent the night building our new La-Z-Boy faux wicker furniture from the ooh-la-de-da Jameson collection that will fill this room and allow us to relax with or without a tasty alcoholic beverage in our hand.... but mostly with.
Two relaxed
Martini feet up for La-Z-Boy's line of spiffy waterproof outdoor furniture that doesn't feel like it was manufactured with good ol' fashioned monkey power in some oppressive facility run by greasy teenagers who don't give a sh*t about anything except weather or not that boil on their neck is getting pussier. Or hairier. Or both.