Emergency Caulk Stops Blow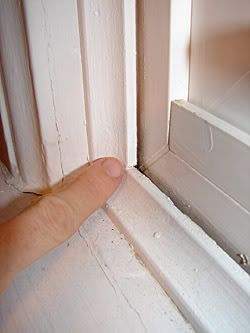 People with
dirty minds, be forewarned: this blog contains dirty words which are being used in ways you do not prefer.
It is
a known fact that Canada is cold. Canadians would never consider putting a window in their igloo. And even if they were just crazy enough to try it, they'd be very mindful that it was installed in such a way as to prevent the cold air from creeping in and making man parts shrivel.

When we bought
our 1939 house, we were pleased to see that 3 of the main windows had been updated with new vinyl windows in 1996 when the original builders and owners of the house moved into a retirement home. At that time, the windows were young at only 9 years old. But windows just don't have the same lifespan as humans.

The other
night we had a decent storm. When I walked upstairs I noticed the curtains in one bedroom getting a good blow. I immediately ran to the window to close it, wondering how the bloody heck it became opened. That is when I discovered the window was firmly shut.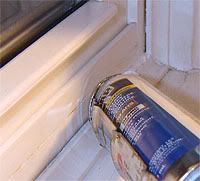 Puzzled,
I stared at the window until I realized it was the gap between the window and the trim which was letting the cold air blast right into the house. It seems that whoever installed the windows was good at sucking, because the job blew.

I always
keep supplies on hand, kind of like a store. Suz thinks I'm crazy for keeping things at the ready, but I prefer to live by the Boyscouts (and Batman's) motto: "be prepared". That is why, in the basement, I had a loaded caulking gun ready to go.
They say
running with scissors is dangerous. But, somehow, running with a caulking gun isn't. So I ran upstairs to the bedroom to seal the hole quickly before our house filled with poisonous, frosty air. With the tip of the gun in place I squeezed hard and white caulk filled the gaps as the storm howled and ice pellets smacked against the glass.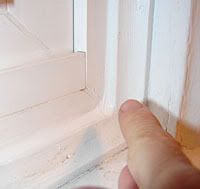 When I had
finished, the caulk looked bad. Not bad like Michael Jackson, but bad as in, terrible. I filled a glass with water, dipped my finger in it and smoothed out the caulk before it could dry. It took a few attempts to get it smooth and perfect but after a few minutes I was satisfied.
Unfortunately,
the window still allowed cold wind to blow through the broken part of the frame where the lock used to be. The blowage wasn't nearly as bad as it was around the frame, however, it still upset me. Had I known earlier how badly these windows leaked, I would have had them replaced along with the 14 others we had done
last month.