Royalty Is Visiting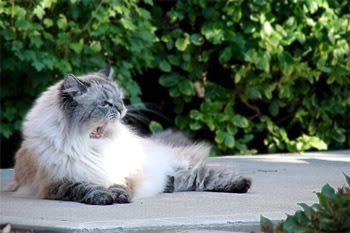 This is Oliver.
Or, as I like to call him, Shmeg, Shmeglin or Shmego-Bub. Shmeg is my parents' cat, a purebred Himalayan Lynx with a show-cat heritage. Recently he has gained a new name due to the fact he must be waited on hand and paw. Suz calls him the Prince. Yes, he's better than us, and he knows it.
While my parents
are in Florida Suz and I are attending to the Prince's needs and desires. If we don't stick to the schedule, we'll both receive 40 Royal lashings.
And not
the good kind, with a dominatrix standing over you with a cat-o-nine tails.
Shmeg is
14 years old, very old for a purebred, and is therefore on a strict diet of soggy, mashed up, scientifically formulated gunky crap which must be presented to him twice a day, along with a proper curtsy.

Apparently
it's tasty crap. I wouldn't know. I've only ever tried dry cat food. Regardless, Prince Bub must be fed his soft raunch twice a day or he'll bite the big one.
Terrified and disoriented
without his Royal Pillow, Prince Bub cowers in the basement, or slithers behind the fireplace; a crack so narrow my arm barely fits. The Prince must be coaxed out of these hiding places, and fed his Royal Dinner.
The only problem is,
he prefers people food. And he prefers it fed to him by hand. And so I must sit, painstakingly tearing off strips of Schneiders Oven Roasted Chicken and holding it up for him to grab.
No,
not with his teeth - with his paws. Price Bub sits on his hind legs and holds the chicken steady with his paws while he chews the nutrients out of it. Feeding time can last half an hour.
But it's
all worth it for my little Prince Shmego-Bub, who shows his affection with mighty head-butts and a few choice vocalisations like, "
Mmmcaaaaaaaaaw
" instead of meow.
Hand feeding
really isn't so bad, especially considering

*this*
is the end result of Prince Bub's standard glop dinner. When finished, the Royal servant, me, sticks his plate into the royal dishwasher and wipes everything down. The whole process is a royal pain in the ass.