A Funny New Year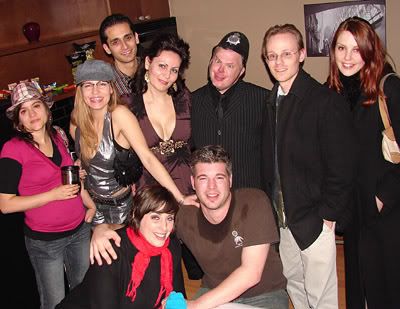 Suz and I
made some special plans for New Year's Eve this year. Not "rides the short bus" special, but "very fun and different" special. We drove into the big city for a show, a show, and a party.
Our first stop
was Toronto's totally geriatric
Massey Hall.
Actually, it was dinner across the street, but that wasn't much of an event. My old friend Rob Scott, the piano wiz you may remember from
this post
, invited us for 3 reasons, 2 of which were piano performances.
He,
along with Great Bob Scott, was playing the musical introduction/interludes between stand-up comics at Massey Hall for their 7th Anuual New Year's Eve comedy show. The show ran from 8:00 till almost 11:30 and was hosted by Royal Canadian Air Farce comedian
Jessica Holmes
and featured many famous and hysterical comedians such as Last Comic Standing Finalist,
Gerry Dee
(who I like to say is best known for his bee-ar and the hoe-ney joke.)
One of the
funniest guys we saw turned out to be a really distant "friend of the family". And I'm totally using that phrase in the loosest sense as he actually only knows our sister-in-law out in Vancouver.
After the comedy
we ran across the street, Suz on her feets, I on my cane, to the Pantages Hotel where Rob entertained for the lounge-crowd and ushered in the new year with some fancy piano action and an emotional rendition of Auld Lang Syne which had the entire lounge singing & dancing.
Finally,
just after midnight, we headed up to his room and celebrated his birthday, about 30 minutes too late. One of the comedians from the Massey Hall show, a friend of Rob's, joined us along with about 14 others including Rob's producer,
Jaymz Bee.
It was an enjoyable evening with shenanegans all night long. Unfortunately, 3 a.m. rolled around and Suz and I had to head for home, crawling into bed at the ungodly hour of 4:00.
To hear more of Rob's music, check out his music links
here.
Labels: new year's eve, party, Rob Scott, stand-up comedy