Ten Dollar Desk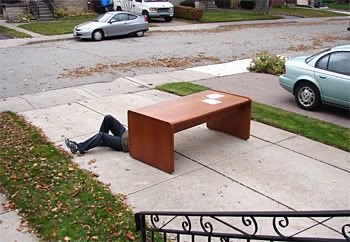 What's a nice desk worth?
A combination of the price of the wood, and the labour of assembling it? What about the designer? And the screws and drawer hardware? What does it all add up to? $900? Maybe $2,000?
How
about $10?
My workplace
was recently getting rid of a number of old desks and tables. There was a silent auction. People bid on them. Highest bid won.
Nobody
bid on this desk.
The auction ended and my favourite desk did not sell. I asked about it and was told any offer was good, as the desks needed to leave the building as soon as possible. I offered $10 and the desk was mine.
I didn't
really want or need a desk. And this one was far too enormous to fit anywhere in my house. Sure, I could have sat behind it in an overstuffed leather chair smoking a nice cigar and telling people I didn't like their teeth, but that's not me. Plus, nobody would come to my house if I did that to them. Jerks.
What
I really wanted this desk for was the wood. The wood was very nice. Thick, solid, nice grain and best of all - curved edges. It was absolutely perfect for my bar countertop for the bar which I am building in my basement.
When
I got the desk home via
One Useless Man's
minivan, I layed
on my back
in the middle of the driveway and started unscrewing screws. I thought I would unscrew a few and take the wood straight into the basement.
Nope.Thirty-seven screws later
the darn desk was still strong enough for me and Suz, our two fat cats, and four of our neighbours to stand on. Upon further examination, I found it was glued as well. That is a sign of a good, quality-built desk.
I estimate
there are still 70 or 80 screws left in the desk, and many of them are unreachable as they are deep at the back of the drawers. To whomever built this desk, I apologize for what is about to happen to it. Tomorrow, Mr. Jigsaw comes for a visit.