Halloween Candy Oscars 2007 - Part 2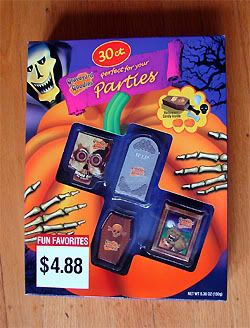 Halloween is
as much about the costumes as it is about the candy – but only if the candy is October 31st-appropriate as discussed in
years past.
Part 2 of the Halloween Candy Oscars will see an award given for best hard Halloween candy.
Boneheads,
thanks to evil candy geniuses everywhere, are still gracing store shelves, much to my happiness. I hate having to bury discontinued candy in the Halloween candy graveyard. Especially when it's completely awesome. It's like God taking a talented, intelligent, beautiful child to Heaven before their time. So unfair.
Of course,
a Voodoo Priestess can revive the dead through an unholy, unnatural ceremony, but what comes back is never the same. So horrible.
Remember Monster Candy?
Inside small boxes were slabs, SLABS of Popeye-cigarette type white candy. The boxes had famous movie-monsters such as Frankenstein printed on them, and inside, each slab had the same monster, avec film-frame border, printed on them. When I was a teenager they disappeared. Then the Voodoo Preistess stepped in and granted Monster Candy a one-year revival. The boxes remained while the candy inside was changed from printed slabs to 2 tiny cheap Popeye cigarettes, which made me bawl my eyes out. So evil.
Luckily
the powers that be have allowed Oak Leaf's Boneheads to stick around. Boneheads are slightly larger than the newish, larger size Tic Tacs. They are covered in a super-awesome glossy coating which protects the deliciousness inside and boosts shelf-life by a half a century. Green ones are particularly rare.
The skulls
are fruit-flavoured, and, for the most part, they taste pretty radical. The best part is their appropriateness towards Halloween. Chowing down on a cherry skull is friggin' awesome.
But there's
another candy really giving Boneheads a run for their money for two reasons. I came across the very last box of Graveyard Goodies in a Wal-Mart in Pennsylvania and instantly knew I had to have them. Whatever the candy tasted like, the packaging was PURE EFFING GOLD!
Inside the main box
there are four different boxes of candy, each one more awesome than the last. First, there's a skull, with bulging, veiny eyes. Next, there's a grey RIP tombstone, with curved top and all. Third comes a picture frame with a Werewolf slashing in your general direction. And finally, the piece de resistance, a
bloody freakin' Coffin!
Open
this 6-sided bad-boy and out pours two pumpkin-, two femur-, and two skull-shaped candies. These are the same size as the Boneheads, but pop these suckers in your mouth and rejoice at the Popeye cigarette-type candy underneath that glossy coating!
And let's face it.
Who wouldn't want to suck femurs on Halloween? The Halloween Candy Oscar for Best Hard Candy 2007 goes to Tech Time's Graveyard Goodies.
Two
Martini-thumbs up for their amazing packaging. This is the stuff that Halloween dreams are made of.