How Good Is Your Brain?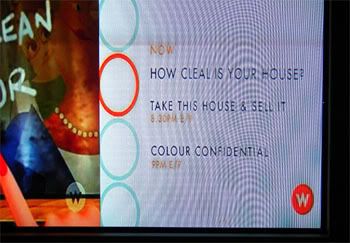 Being
in the type of business where the public can and will criticize every little error we publish, I have accepted there will always be human error, always be blame, always be apologies and corrections the next day.
What I didn't
really realize is that this phenomenon is not limited to my area of work. My realization came the other day when I photographed this blunder on TV. Granted, it was essentially a station promo, however, it's TELEVISION!
There are
acceptable reasons for our misspellings – multiple deadlines for multiple 'products' every single day. Sometimes we only have an hour to create something. Sometimes less. We don't have a month to get these things perfect, like magazines.
For TV
, things are different. It's not like they're putting these promos together during the commercial break. It's not like there's some J. Jonah Jameson-type boss screaming "
hurry the hell up genius, you've only got 30 seconds to finish creating that spot
."
So how
does a hilarious error like "How Cleal Is Your House?" happen? The L key isn't really near the N key in terms of normal typing on a QWERTY keyboard.
Is this grade 3?
Do you get points for trying, like when your teacher asks you to point to South Dakota and you point to North Dakota? Is that same kid sitting at his computer, creating the commercial spot saying, "okay, one more letter. That N key is around here somewhere. Let's try...THIS one."?
And what
the blood was I doing watching the W network?