DeLorean Damage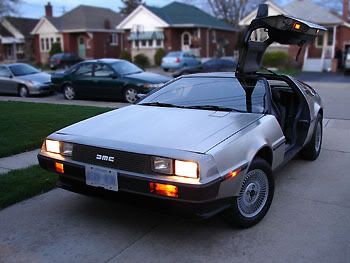 Know what's funny?
Jerks. Know why? Because they make great stories. Like the jerk I met recently while I was fueling up.
Had I
followed the advice this stranger offered me, I would have ended up with the worst, scratched-up DeLorean this side of Freddy Krueger. Why? Because he didn't know what he was talking about.
And what's worse
, he claimed to be a former DeLorean owner.
So what
did Mr. Bullshit tell me? After first complimenting me on the car, he then told me how he knew all about them, because he owned one back when they were new. Then he started talking to me about "
all those scratches everywhere
." I didn't quite understand what he was talking about, but I mentioned that yes, there were a few scratches on it when I bought it.
But that
wasn't what he meant. He ran his finger down the grain of the steel and told me it should look like a mirror; that there should not be ANY scratches on the stainless steel anywhere.
He knows
, because he used to own one.
I asked him
if he was talking about the grain in the steel. And I told him that there should, in fact, be those lines, because it was
brushed
stainless steel. But he argued further, telling me emphatically that there should be no lines whatsoever.
Now I
was almost laughing. I decided to just play along, and thought maybe I'd get out of the gas station before the sun went down and the Vampires bit our necks, making our absurd argument eternal.
He told me
to rub oil all over the body panels circularly with a pumice stone. I enthusiastically agreed this sounded like a good idea and that I'd give it a try. As I slipped down into my driver's seat laughing at this horrible, DMC-destroying suggestion, he clamoured up into his Jeep.
His parting words
were how he and all his jerk-friends were into Porsches and Ferraris now. Yep, he knows what he's talking about because he's into Porsches and Ferraris. As if the lowly DeLorean is beneath him now.
What would
have been really cool is if he were beneath my DeLorean as I drove away.