No Bones For My Rocky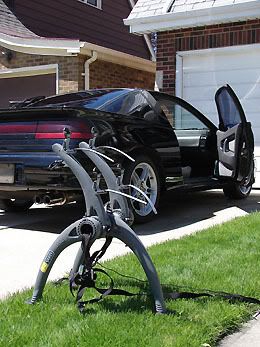 I am riding
my bike in the
Becel Ride For Heart
on the DVP this summer, but I am not quite sure how I'll be transporting
my bicyclette
there. I do not have a bike carrier. And I absolutely do not have the Saris Bones bike carrier.
I bought
the Saris Bones bike carrier from the bike shop where I used to work. Then, I returned the Saris Bones bike carrier to the bike shop where I used to work.
I forked
over $150 smackers for the moulded bits of plastic and aluminum, a carrier so universal it's supposed to fit everything from Toyota Tercels to Chev Corvettes to Dodge Caravans. I mean this thing fits everything. It probably even fits the Bugatti Veyron, although the intense engine heat might melt the Bones' substantial rubber feet.
But it was
not meant to be, and my $150 smackers were forked back to me. The factory spoiler on my not-so-factory Talon was too thick for the bike carrier's hooks. The curve of the hook suffered an intense amount of crushage and my paint nearly suffered an equal amount of chippage when I tried to close the hatch.
Chippage and crushage
, like chips and Orange Crush, are not on Canada's Food Guide For Healthy Living, so I had to return the bike carrier. I suppose I will have to chuck my bike in the back, with the seats folded down, and hope I don't pop my L7 trying to lift it out on June 3rd.
Labels: Becel Ride For Heart, bike carrier