Cable Guys Are Too Rough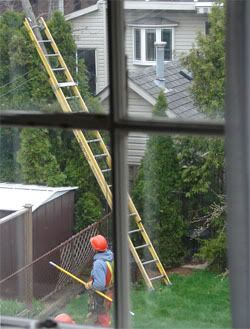 Last summer
the phone line/cable pole in my neighbour's backyard did what every post office employee will eventually do – it cracked. And then
it fell
on a 45 degree angle, held in place by the very cables and wires that were secured to it.
My elderly
, talkative, please-Lord-help-me-guide-this-fork-into-my-ear-neighbour complained about it for days. I couldn't help her, but she insisted on complaining to me about it, as if I were the cable-pole-utility-commissioner or something.
Eventually
someone cut the pole down. But the complaining didn't stop. Nope. I listened, for days, about the workmen who totally trampled my neighbour's poor Lily of the Pansy, or Goatweed or whatever the freakin' hell it was.
I felt bad
for her. I'd hate if that happened to my garden too. But I wouldn't go over to her house and start bitching about it.
Anyhoo
, the doorbell rang the other morning, waking me from my nightmares. It was Cogeco Cable. The man in the hard hat told me they were taking their cables down. He asked if he could enter my backyard to take the wires off my other neighbour's pole.
"
You mean the really old rotting pole?
" I asked in the ultimate gravelly, groggy, early-morning voice.
"
Yes, that's the one.
" was his reply.
"
Fine with me.
" I said. And with that he thanked me, gave a pleasant curtsy, and trotted off into my backyard with his spiffy ladder. I ran upstairs as fast as I could and propped myself in a chair by the window, waiting for the inevitable.
Within a few
seconds, he had broken the pole. Being half-asleep, I wasn't fast enough with my camera and I cursed. Now I'm facing a week-long tirade from my other elderly neighbour about
her
bloody broken pole. Yay.