210 Grams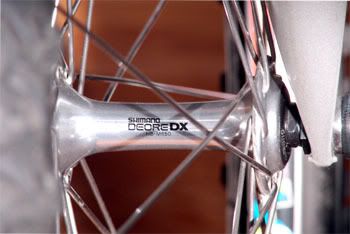 The world
is bizarre, which is better than bazaar, because I don't like them, and better than Harper's Bazaar, because that's a magazine for girls and probably has ads for My Little Pony and diet eye-liner.
Recently
I reconnected with my old best friend,
Ryan.
We used to be the most awesomest of best friends, until he moved away in high school. So we had some dinner and talked about all the things that happened after he abandoned me. This is where some of the bizarre stuff comes in.
Not only
did we both get big into mountain biking (and he into racing) but we both worked at bike shops building mountain bikes for all the people across the land – from sticky kids to greasy, fat 40-year-olds with aspirations bordering on the ridiculous.
I checked out
his Specialized hardtail, and we talked metals. I've been out of the mountain bike world for a long time, which is why I was so surprised when I picked up his bike. Even with a sweet Fox front suspension, the entire bike only weighed 23 lbs.
A tear
rolled down my cheek as the realization hit me that
my bike
, once an ultralight 27-lb. piece of cutting-edge awesomeness, is now a massive pile of steaming dinosaur crap.
Which is how
I got hooked on
this website.
Weight Weenies lists the actual weight of pretty much any bike component (including frames). And there are hundreds listed, alphabetically, and categorically.
I could
save my bike from extinction by replacing my components with lighter ones. I've already figured out how to shave 210 grams. That's like, four chocolate bars. Sweet.
Labels: mountain bike, Specialized