Blogode To My Bike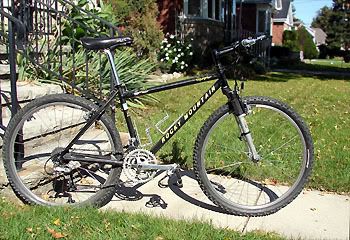 Thanksgiving weekend
weather was so warm, Suz and I hopped on our bikes for possibly our last ride together this year. In a few short minutes we were down by the water, snapping pictures and enjoying the spectrum of brilliant fall colours.
Thanks to
mmat's recent biking stories over at
Welfare Bum
, I decided a sort of blog-ode to my bike was in order.
Before the drudgery
of work sapped my energy, I used to ride my trusty Rocky Mountain Equipe every single day, and the cold never stopped me. I guard my 13-year-old Rocky Mountain carefully. This kind of bike may seem outdated by today's wild new mountain bike standards, but it can't be replaced.
Briefly
, back in 1993 when I bought this bike from the shop where I worked, Rocky Mountain frames were completely hand-welded with great skill. Each wheel, once trued, was signed by employees who took responsibility and pride in their work. And I was proud to spend every penny I had on a Canadian-built bike.
Back in
'93 a suspension fork was practically unheard of, and a forged T6061 handle bar drew gasps of amazement from my mountain-biking coworkers. At 27 lbs., my Rocky Mountain was lightweight, cutting edge, too-cool-for-school downhill racing technology.
But
not now.
Now the
Rock Shox Quadra 10 suspension is taunted. Despite its incredible reliability vs. the primitive oil shocks of the day, the elastomer suspension was considered a lesser technology because it was too "bouncy." I still take hard hits with it, but with less than 2 inches of travel, it seems to be more of a novelty now.
Still
, I love my bike, and couldn't imagine having to replace it with something new.
Dear Rocky Mountain,
You are so grand,
You helped me travel
All over the land.

We hit some bumps
and a couple of trees,
Jumped some stumps
and evaded some bees.

When I fell off
And skinned my head,
You consoled me
with a piece of bread.

Together we conquered
Every terrain,
I'm sorry about
That nasty blood stain.

Maybe one day
I'll ride you again,
However this winter
I'll park my butt in the den.