Niagara Falls = Water Fun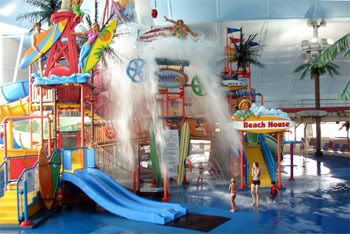 Niagara Falls
has changed a lot since I was a kid. The haunted houses are still there, but they've added a new one. The on-street parking is still the same, but they've added a massive parkade, and pretty much all of the deserted emtpy lots have been developed.
The big
water attraction, the falls themselves, are still hanging around, but two new water features were added. The Hampton, The Sheridan, The Skyline Inn and The Brock Plaza Hotel joined forces this spring to bring one of them, a 125,000 sq. ft.
water park.
Suz and I
spent an entire day waterlogging ourselves on their 16 water slides. It was easy because the water park was connected to our hotel (The Brock) by a set of elevators which took us to the top of the parking garage, where it was so warm and humid, it was practically tropical.
If high speed
tube slides are your cup of tea, this is the right place. One set of stairs leads you to four tube slides, all of which are tube shaped, and require the use of inflated tubes. Each have their own distinct personality.
Climb a different set
of stairs and there are four more slides, two of which were body slides. Señior Yellow was a tempting slide. Straight, with one sudden drop steep enough to launch anyone under 250 lbs. airborne for about 2 seconds.
That yellow slide
was an exhilerating, short ride which I've dubbed "The Nutcracker". If you're planning on having kids, this is not the slide for you. Upon reaching the bottom of the slide, approximately 75 gajillion gallons of water (give or take a gajillion) slam into your Frank N' Beans after sneaking between your crossed legs. I wanted to tell the girl monitoring the slide that she should warn guys about this hazard, but I didn't feel comfortable talking to a girl about my private parts with my wife standing beside me.
To give
me a chance to heal we hung out in the wave-action pool, at least until we developed motion sickness. To ease her queasiness, Suz settled into one of the huge hot tubs, while I climbed into the brilliantly designed playhouse. Water guns, valves, and tipping buckets were everywhere. If you're afraid to get water in your eye, stay away, or you'll be screaming "My eye! My eye!" for eight straight hours, especially with me behind the valve controls.
Wanna big blast
of water? When the bell starts ringing, the enormous bucket o' fun will dump its contents on hapless fools below. Suz was one of those fools, about 9 times in a row.
The best part
about the park was how deserted it was. It felt like we owned the place. At any time we could ride down any slide we wanted, without ever having to wait in a line.
Riding
over the falls in a barrel you wouldn't encounter any lines either, but I'd still recommend the water park. It was much more safe.