Ferraris Fancify Festival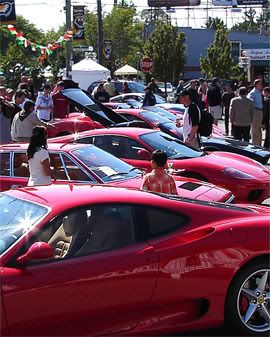 On the weekend
Suz and I attended the 3rd annual Westitalia festival, which I've blogged about
before.
The weather was good, but I was reluctant to go because of the pain in my feet. After a discussion, we decided to ride our bikes.
The first year
I went I was told by an event employee to get off my bike and walk. I tried to explain to him that I was unable to walk, but he refused to listen, interrupting me only to tell me again to get off my bike, while rowdy teenagers rode their bikes in a rowdy fashion, knocking old ladies over only 10 feet from us.
Furious
at how I was singled out despite my cautious & mature riding, I angrily walked away, then hopped on my bike and rode home as fast as possible. I emailed the event organizer (who happens to know my mommy) and told him how I was treated poorly and how I hoped the 2nd Westitalia festival would be different.
The organizer
felt badly about the situation and assured me that would not happen again.
This year
I was able to ride my bike freely through the streets and around the stages and tents without incident. We admired the massive sand-sculpture, ate Willy-dogs and talked to the Green Venture lady about idling cars. She was pleased to learn we drive an Insight which shuts off when stopped. With a smile on her face, she accepted my offer to bring the Insight to any event they organized in the future.
The highlight
of the day, at least for me, was the display of
super-cool rare
Ferraris. The owners stood nearby while gawkers took in the incredible sight with cameras made mostly in Japan. Combined, there must have been nearly 3,000 horsepower on display, including the
ultra-cool Dino 308GT+4
that I wrote about last year. And a car whose owner I had the pleasure of meeting this year.
The new Ferraris
are gorgeous cars - there is no doubt about that - but I still prefer the styling of years gone by, and chrome, which the Dino has plenty of.
A week earlier
I spoke with the organizer of the event and was disappointed to learn I wasn't able to bring my DeLorean to any of the car displays. Even though it was designed by a famous Italian designer, Guigaro, it certainly wouldn't fit in with the Ferraris. It doesn't really fit in anywhere.
As the sun
dropped lower in the sky, the Ferraris started disappearing from the lot as their owners took them home. Suz and I bought $2.00 cupcakes and rode our bikes home. Somehow, it's just not quite the same.