Double Chocolate Isn't Double Yummy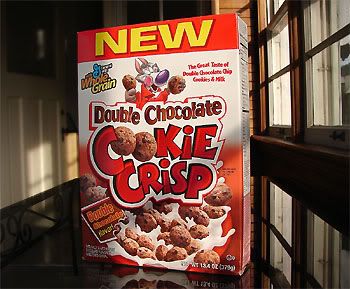 A very good
co-worker friend surprised me this summer with a box of awesomeness: Double Chocolate Cookie Crisp, featuring diabetes-inducing double-chocolate chip cookies.
The box
, with a bright red "NEW" banner across the top, states that the flavour is "
Double chocolate chip cookies and milk.
" I temporarily disagree with 50% of this statement: Until the milk is poured onto the cereal, there is no milk flavour.
Regardless
, the cereal is fantastically sugary, yet lacking, however, still awesome.
Original Cookie Crisp
tastes like, well, little cookies. And they're damn tasty. Double Chocolate Cookie Crisp, the newest cookie/cereal combination product from the brilliant minds at General Mills, tastes more like a blast of sugar, with some chocolate chip cookies hidden in the background.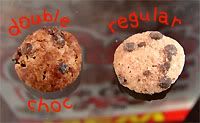 The cookies in both
cereals are effectively identical. I almost discribed them as
virtually identical
, but I hate the overused word virtually. Anyway, the only difference is that the 'Double Chocolate' cookies are coated in a chocolate confectionary coating, turning them into dark brown sugar demons, devouring your soul in the guise of nutrition. It makes sense. The cookie factory doesn't have to make different cookies. It just has to run overtime to create extra cookies, then blast them with the confectionary coating. That's how you keep jobs in America.
Upon consumption
of the ultra-chocolately cookies, I discovered that they weren't quite as good as regular Cookie Crisp. I found that for snack-time, dry Cookie Crisp wasn't totally great, but pour some milk on 'em and they explode with deliciousness. Double Chocolate Cookie Crisp (DCx3) was essentially the opposite: It was fab dry, but didn't taste super great with the moo juice.
DCx3 certainly
isn't raunch. Some might find it to be the most supreme cereal they've ever eaten, and would gladly trade a kidney for a bowl. I think that it's an average cereal despite the hype of more chocolate. I would not trade an organ for this cereal. I prefer the regular Cookie Crisp.
In conclusion
, I don't think the Cookie Cop has to worry too much about the Cookie Crook - if they even still exist. These cookies will be relatively safe from any stealage, while regular Cookie Crisp still needs protection. One Martini-thumb up for Double Chocolate Cookie Crisp.