My New Cabinet
After living
in our garage for a year,
my DeLorean
finally gets to sleep next to a piece of "furniture" instead of an unsightly array of car-cleaning products and towels.
My search
for a cabinet failed miserably yesterday. But my hopes were up a little when Suz suggested we try the one store we hastily skipped; Zellers. When we scoured the furniture department there last night, my heart sank. I couldn't find any utility-type cabinets anywhere.
But on our way out
, I spotted a generic cardboard promo with a pic of the exact cabinet I wanted. Then Suz found it, in a long unremarkable box, on the bottom shelf. I had walked right by it, ranting about "
no good furniture
" or some bloody crap like that.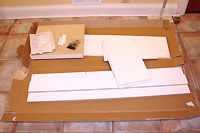 I
bought
it, took it home, and ripped it open. Inside the cardboard box were the chipboards of possibility, and screws of happiness. I examined the pieces to make sure they were not damaged, gave Zellers a mental thumbs up, and began assembling my new cheap-ass cabinet.
I didn't care
that it was bare, exposed chip-board on the insides of the doors. And I didn't care that the plastic handles were so thin I could almost see through them. The cabinet was the right size, and equally importantly, the right price: Cheap!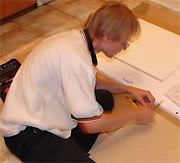 I plugged
in the battery for my drill, and while it charged I started assembling the unit by hand. As convenient as cordless drills are, I still like doing things the old-fashioned way; the way my grandpa did when he built cabinets. I even have a few of his old tools, some of which belonged to
his
grandfather.
My patience
grew thin, however, so I unplugged the battery charger and started using my cordless drill instead. With about 15 minutes of cordless 12 volt action, I had completed the cabinet despite the retarded instructions telling me to screw BF003748Ax into Board "D" then attach Board "C" using screw BF003748Fz. WHA?
Anyway
, just before midnight my nice white CabinetWorks cabinet was complete. Now Gary Coleman can sleep over, undisturbed.