Free Ice Cream Day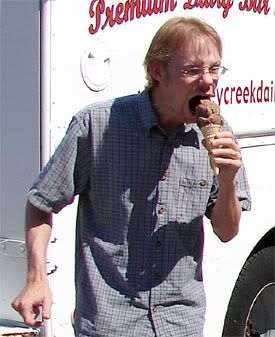 The other day
, a very hot day, everybody at work was treated to a nice surprise. And nice surprises really are the best kind of surprises, aren't they? Much better than those rotten surprises, like when your parents say, "Hey kids we have a surprise for you! We're going to the doctor for booster shots! Yaaaay!"
Well
, this particular nice surprise was in the form of the ice cream truck and the ice cream that was inside of it. And it was a welcome treat that (sort of) boosted morale, at least temporarily.
A big white
Grumman truck parked in the side parking lot, and the line of ice cream-wanters formed almost immediately. Considering that the tasty, dripping cones were handed out free of charge, quite a variety of flavours were available including that old childhood favourite: tiger stripe.
I myself
partook of the funky chunky chocolate. It consisted of chocolate ice cream filled with fudgy swirls and delicious soft chunks of chocolate. Orange chemicals and black chemicals swirled together just doesn't appeal to me any more.
My coworker
Jodster, who you most likely know from
Useless Advice From Useless Men
, or not, avoided the Tiger Stripe as well but still decided to be slightly daring. The upper level of his two-scoop tower of deliciousness was Creamy Carmolate, supported by a round ball of Butterscotch Ripple on the bottom.
Unfortunately
, only cardboardy-tasting standard cones were available instead of such luxury options like sugar or waffle cones. But I don't think people cared. They were just happy to be eating ice cream. Or avoiding work. Yeah, probably the latter.
Usually
I take ice cream-eating very seriously. But Jodster and I were having too much fun taking pictures, and the solidity of my ice cream suffered as a result. My dripping cone was not only a treat for me but probably kept an entire hive of wasps in high spirits and nourished thousands of lil' antlings as well.
Yay
, ice cream. And who wouldn't prefer ice cream to booster shots?