Skor Ice Cream Review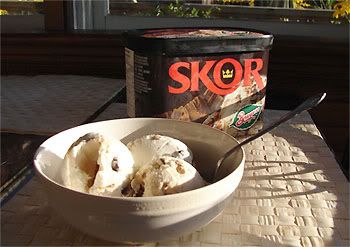 It's summertime
, it's hot. Time for ice cream! (and maybe a hose-down)
Skor ice cream
is, according to Breyers, "
Toffee Flavoured Ice Cream, Toffee Bar Pieces, and Caramel Swirls.
" Just like
Twix Ice Cream
, the container is a smallish 1.89 L, but unlike Twix Ice Cream, this chocolate bar ice cream contains actual chocolate bar pieces, which increases its relative awesomeness by 32%.
But Skor
ice cream is not perfect. In fact, it's only about 12% perfect, which are your chances of getting a really big hunk of Skor bar.
Skor ice cream
is both totally crap, and the best ice cream you could have hoped for as a kid. Real chunks of chocolate bar are mixed through the caramelly ice cream instead of some simulated Skor flavour. Sounds wicked-awesome eh? Well, the problem with Skor ice cream is that it doesn't contain enough Skor bar.
After eating
an entire carton, I concluded that only one Skor bar was smashed up with a hammer, and sprinkled inside with the ice cream. However, whenever I did come across a piece of Skor, it was like heaven had descended to earth and punched me in the mouth with chocolatey-toffee goodness.
On sale
for $3.99 instead of the usual $5-something, it's a slight deal. Considering that Skor bars are always on sale, 2 for $1.49, it's extremely sad that Breyers could only crunch one Skor bar (valued at less than 75 cents) into the ice cream.
The largest
piece of Skor I found was a rectangular piece measuring exactly 1.5 x 0.75 inches. Sadly, I encountered this anomaly towards the end, and found no more pieces like it.
The ice cream
itself is supposed to be Toffee flavoured, but it's so mild that it's practically vanilla flavoured. And since you rarely get a piece of Skor bar in your mouthful, it feels like a bit of a rip.
Martini commands
Breyers to begin multiple Skor bar insertion sequence. Otherwise I give one medium-sized thumb, almost in the up direction.