Martini's Guide To Eating Twix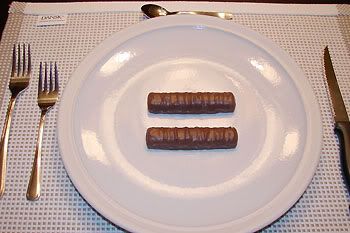 There is an art
to eating Twix, as
Patti-Cake
subconsciously pointed out in a comment yesterday. I thought this was a shocking coincidence to the way I eat Twix, so today I present: How To Eat Twix, Martini-Style.
There isn't
really an improper way to eat a Twix bar, but there are a number of ways so boring or mainstream that they are frowned upon by the Twix-eating community. This guide will help you be more awesome in your daily Twix eating adventures.
Once you've purchased
your Twix bar, keep it in a cool place until you arrive at home. If you've purchased the dual pack, two thumbs up. If you've purchased the Quad pack, four thumbs up. Don't ask where the other thumbs came from.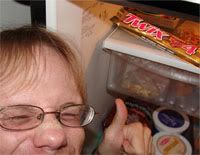 The first thing
to do is place your Twix into the fridge for about an hour. Any fridge will do, so long as it's not working in reverse. During this hour, you could sit down and watch a rerun of Star Trek: The Next Generation or perhaps Xena: Warrior Princess, or any other TV show that might have a colon in the title. (On a personal note, the "Time Squared" episode of Star Trek: TNG is a particular favourite. Double the Picards = double the awesomeness.)
When the show is over
and you've learned a valuable moral lesson, go to the fridge and take out your Twix bars. For the first few minutes the Twix will sweat. Eating the Twix during the sweating phase is sticky and rather unenjoyable. Therefore, you
must
let them sit for about 10 minutes before you eat them. This will allow them to acclimatize to your eating environment.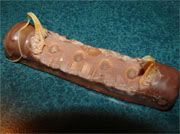 Has ten minutes passed?
Good! Now it's time to eat. Take the Twix and hold it like you would a cob of corn. Make sure the caramel side is pointing upwards. Take a bite mid-Twix, carefully using your bottom teeth to scrape the caramel up from the cookie. DO NOT BREAK THE COOKIE!
With practice
, this will become second nature and you won't have to look or guess where the caramel starts. Continue eating the caramel, being sure to leave a small ball of it on each end. Now, start at one end, and eat the rest of the Twix the way you would normally eat a chocolate bar, bite after bite. Caramel, cookie, cookie, caramel.
Great!
You've done it! You have learned how to eat a Twix: Martini Style. And I am very proud of you.
-----------
If any of you would like to post pictures of yourselves eating Twix, I would not be opposed to that.