The Cereal House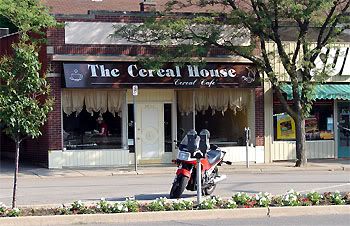 In a world
of global warming, deadly war and oil crisiseses, The Cereal House is an oasis that will bring you back to your childhood, where your worries were much more piddly: missing an episode of The Smurfs, your sister stealing your Big League Chew, and getting smacked.
Cereal Cafés
are becoming huge in the U.S., but here in Canada, they haven't quite caught on yet. The Cereal House is one of the first - and - as a
cereal
freak
, I am proud to say that, after waiting outside their door for 20 minutes, I was their very first customer, ordering the very first bowl of cereal, and handing them their very first $3 bucks.
On Friday
, July 14, 2006 I walked through front door of The Cereal House, along with about 8 others. I approached the counter with adrenaline coursing through my legs and said, "I'd like a bowl of Lucky Charms, with 1% milk please." They didn't have the 1% milk yet, so I settled for Skim. (2% just tastes like cream to me). It was all very official. The girl behind the counter asked if I'd like the regular bowl or the junior bowl, and if I'd like any toppings.
Toppings
included fruit, like blueberries, and candy, like M&M's, gummy bears, and almost anything else you can imagine. As a cereal connoisseur, I didn't go for the toppings. I decided on the Junior bowl, as I suspected that my cereal would begin to sog too early in the enormous "Regular" bowl, and sog is bad. The girl, proudly smiling away, poured the milk into my bowl, and handed it to me.
I sat down
at the back of the café, admiring
the interior
design, and watched as the staff of four served the line of customers who came after me. The café was much like a kitchen, with beautiful, classy cabinets and amazing rich colours on the walls. The atmosphere was warm and happy, and way tons much more pleasant than the Second Cup down the street which was utterly ruined by a horrific renovation/"rejuvenation" which backfired.
Afterwards
, I took my empty bowl to the counter and placed it into the sink where the owner, Nazli Eroglu, was standing. She asked me how I liked everything, and we chatted a bit. I told her the place was beautiful, and asked her if she could get cereal from the United States. She said she could get almost anything.
"If you could get Frankenberry, and advertise it, I bet you'd get a ton of Mac students in here."
I said.
"It's usually hard to get because it only comes out at Halloween, but you can order it on Amazon.com"
I told her. She seemed very enthusiastic about the idea, and said she would try.
Wow!
If The Cereal House lasts
, they'll probably look back 2 decades from now and say,
"Thank you to all our customers over the years. It's been a long journey. Twenty years ago, the very first bowl of cereal we sold was Lucky Charms.... We didn't know it would kill you back then."
Then
they'd lower my casket into the earth, with my grinning lifeless body clutching boxes of Lucky Charms and Frankenberry.