Celebrating Italy's Win
Along with
the rest of the world our city celebrated Italy's World Cup win against those baguette-eating French dudes on the weekend, albeit in a smaller fashion. The Italian insanity clogged our main streets with pickup trucks full of flag-waving fans, and crowds of pedestrians revelling in Italy's glory.
It was too quiet
where we live, so Suz and I decided to take a trip downtown to participate in the green, white and red craziness. Surrounded by deafening honking, we couldn't help but smile at all the screaming fans. My smile was a nervous one, as I worried incessantly about the T-boning I was certain we were going to experience in the maddening chaos.
"Hooray for us! Hooray for Italy!"
came shouts of joy.
"Yaaaaa!"
screamed others.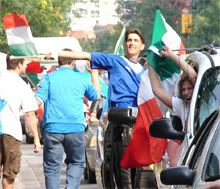 People were hanging
out of their minivans, standing up through their open sunroofs waving various sizes of Italian flags, and blasting their horns. Traffic barely moved. With severe intersection-blockage, we couldn't tell if people were honking in celebration of Italy, or in anger at the road-blockers.
In fact
, there was so much horn action by the man behind us, that his horn actually died. It sounded like a teenager whose voice had just changed. The poor horn just couldn't handle the joy it was supposed to convey.
Behind us
, a family of confused asian people seemed to be in quite the panic. After nudging their Toyota minivan back and forth, they finally were able to squeeze out of the jam, pull a U-turn, and blast off in another direction.
Suz hung herself
out of our Insight to snap pictures of the overjoyed fans, even a few who posed for us. Friendliness and camaraderie were the words of the day in our downtown core. Strangers shook each other's hands and many a fist were shook - in happiness, not anger.
It was very exciting
, but strange even more so, to see our depressed downtown transformed into this busy, friendly atmosphere when it is typically avoided by some, and feared by many. It's too bad the world cup doesn't occur more often, as a city like ours certainly benefits from the outcome.