Famous, Fab DeLoreans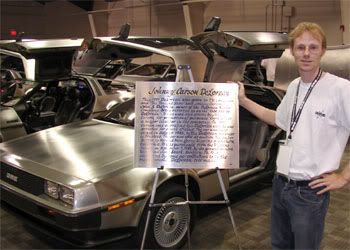 The DeLorean car show
in Chicago this past weekend was a stainless steelicious sight to behold. Not only was the Pheasant Run resort crawling with DeLorean fans, owners and Back To The Future
stars
, but with very special DeLoreans as well. And I don't mean "special" in the
rides the short bus
kind of way.
One of the most
famous DeLoreans of all time, known as the $500,000 DeLorean, was on display for all to see, touch and smudge their greasy fingers all over the stainless body. The car belonged to Tonight Show host Johnny Carson. After donating half a million dollars to John DeLorean to help start his automotive company, Mr. Johnny Carson was given this DeLorean as thanks. In February of 1982, while driving under the influence (of alcohol I presume), Mr. Carson was pulled over and arrested. The incident made headlines nation-wide. Johnny Carson died January 23, 2005, followed 2 months later by John DeLorean.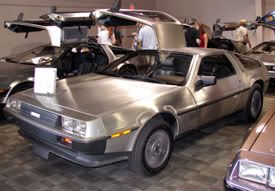 Among other
incredible D's such as the various Time Machines, quietly sat this pristine example of a DeLorean. This particular model appears no different than most 1981 models, until you read the VIN number.
Editor's Note: the following info was supplied by the owner of the car, and is false/incorrect. Apologies to the DeLorean community.
According to the owner, after the first 500 series cars were given to the friends and managers of the DeLorean Motor Company, this car was stamped VIN#1 (actually 1001) and was the first ever available to the public.
The car
was RUSH shipped from Ireland to the car collector and DeLorean Company investor who purchased it and added it to his extensive collection of other VIN#1 cars. This automatic DeLorean was the same car shown to the United States press for the purpose of news articles, TV appearances and fund-raising events.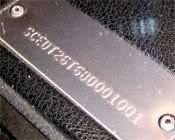 Afterwards
, VIN#1 was stored in a climate-controlled museum until 1994. When the owner sold his car collection he decided to keep two cars in his carpeted office. A Jaguar XK-E and this DeLorean. This DeLorean is now for sale for an undisclosed price. If you've got a couple of piggy banks full to the brim, and a mattress stuffed with your life savings and you want to spend it on a piece of automotive history, feel free to contact Jay Steinberg via email: dmchistory [at] aol.com
If you're wondering
about DeLorean prices, they are all over the map. On the low end, beat-up abused D's can be purchased for as little as about $8,000 U.S. A very nice model will fetch between $20,000 and $30,000 while show cars can get upwards of $50,000 or $60,000. With
John DeLorean's death
, the price of these collectible cars has started to rise. Get yours now, before it's too late!