Wild Thailand Toothpaste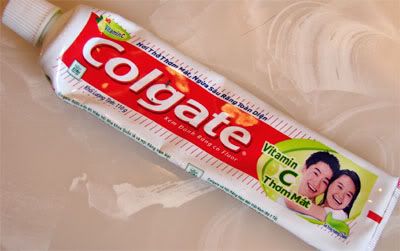 This is
a tube of toothpaste. It's from Thailand. It's Thai-Colgate. It's the same standard size tube we would find in any store here in Canada or the U.S. It features a picture of a young Asian couple, smiling vibrantly, proudly showing off their sparkling white teeth, thanks to those super folks at Colgate.
My sisinlaw, Beck
, just got back from approximately 6 months travelling around Asia, where she had grand adventures and bought various cool things, including this tube of toothpaste. I wonder how many different tubes she looked at before deciding upon this one. And why, ultimately, did she choose this brand? Perhaps it was the only familiar name. I should have asked her. But I didn't.
What fascinates me
about this toothpaste is how different it is to our own, despite the similar tube-style packaging. The only english on the toothpaste tube indicates that it's chock full of Vitaminy goodness. Vitamin C in particular. The Vitamin C appears to be coming from fresh lemons.
We need to eat
Vitamin C to avoid things like scurvy, multiple sclerosis and general mocking, but I do not understand how the Vitamin C in the toothpaste is supposed to get inside our bodies. We were taught, at a very young age, that swallowing toothpaste is very bad for us. I do not know exactly how this Vitamin C gets into our cells, unless this is the world's first edible toothpaste, undergoing a trial run on the other side of the world.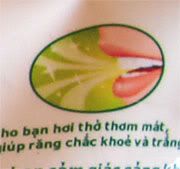 More Images
on the reverse side of the tube indicate that after using this Colgate product, ones breath becomes green, and 4 lasers will shoot out of the user's mouth, firing off in various directions. The lasers are most likely for destroying evil mechs that are always attacking large Asian cities and metropolises (Metropoli?)
Inside the tube
, the bizarre transparent neon green lemon-lime coloured toothpaste draws you in with its nuclear glow. Closer, and closer still, until you can resist no longer. YOU MUST CONSUME!
In Canada
only small children experience the joy of brushing their teeth with oddly-coloured pink and blue toothpaste with sparkles and such. But in Asia, young smiling couples, grandparents, bus drivers and small-business owners alike enjoy the awesomeness of the strange toothpaste.