Why Toyota Will De-Throne GM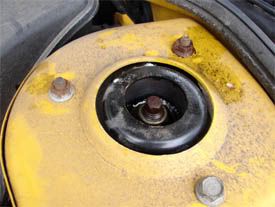 This is a picture
of a 3-year-old upper strut mount in our 2003 Chevrolet Cavalier. I know this. But General Motors doesn't.
When we pick up
our car from you, GM, don't lie to us and tell us that you replaced the upper strut mount when you clearly didn't. Rusty, dirt-covered, salt-encrusted strut mounts are not brand new. And they don't creak just like the old ones, either.
Thanks
for the slap in the face, General Motors. It's not enough that your mechanics don't know how to fix the stupid little problems with our Crapalier, but then you lie to our faces about the work you did to our car? Not cool GM, not cool at all. Your mechanics might be nice people, who live in my neighbourhood, shop at the same grocery store as me, get horrific diarrhea, and have families to raise and love. But they suck donkey balls. Speaking of balls... have the balls to tell me when you've done something wrong and I will respect you. Right now, all I want to do is drop firey napalm on your sorry, lopsided, hemmorhoiddy asses and roast tasty marshmallows for 7 and a half hours.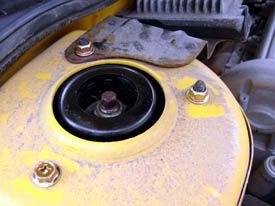 This is a picture
of a brand new upper strut mount in our 2003 Cavalier. GM mechanics take notice. I know you've been trained by GM, but the brainwashing must end!
When I ask you
why you didn't replace the upper strut mount in the first place, don't lie to me. Don't tell me you did - that it's impossible to see the upper strut mount from the engine bay. Don't lie to me and tell me that it's hidden down inside the strut tower. If you are going to lie to someone, choose wisely who you lie to. Do not lie to the person who knows about cars.
Now
that you've
actually
replaced the upper strut mount on the passenger side, you will not be able to lie anymore. What are you going to do, dear GM mechanic? Who will you lie to now? The 87-year-old grandmother who is sure to croak next week and hassle you no longer? The ditz waitress who thinks her 710 cap is on upside down? Maybe you'll get away with it, and maybe not. That grandmother has a lawyer for a son. That waitress is actually a reporter in diguise.
And one day
Toyota will surpass you as the world's #1 automaker, not because their mechanics are more truthful, but because their vehicles don't need upper strut mounts replaced after 30,000 kms.