Death Of The Insight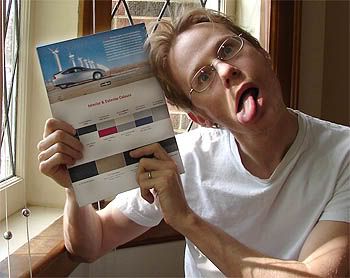 Richard Colliver
, vice-president of Honda USA has officially announced the end of the awesome
Honda Insight hybrid
due to its overwhelming awesomeness. Apparently nobody could handle the completely mind-blowing 2-seater because it was simply too awesome.
I know
this news is coming a bit late, but I was sworn to secrecy when my friend, and ex-corporate Honda employee, Tonton told me about the demise of the Insight before Honda had officially announced it.
But last week
Honda made the sad announcement which caused massive clinical depression among Insight-loving people in Canada, the United States and possibly Kazakhstan. Reports of Kazakhstanians jumping off bridges were falsely reported, but presumed to be true.
Right now
, and for the rest of the summer, it will still be possible to order a sleek 2006 Honda Insight. But as of September the 2007 model year will commence - and, like a high school dance, the nerdy Insight will not be joining the party.
Hybrid fanatics
are competing with one another in order to secure the last Insight ever produced. Like a game of chess, each potential buyer is carefully plotting their respective moves and waiting until the eleventh hour to place their order, hoping their Insight will have that final VIN number.
For the next 3 years
Honda will only offer the Civic hybrid and Accord hybrid, with the possibility of converting the new and hideous Fit into a hybrid format, which is bound to cause mass vomiting in the streets.
In 2009
the replacement for the Insight should appear. But right now, spectators are gathering around the guillotine to watch Honda drop the blade on the Insight's neck.
If you'd like to read more about Honda's decision, check it out here.