Lawn-Mowing War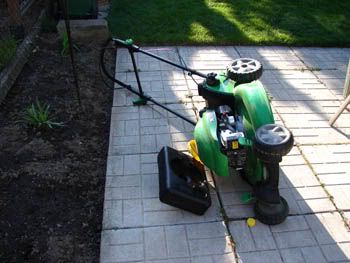 You know
that horrible noise you heard yesterday? No, it wasn't a prehistoric monster screaming in anger. No, it wasn't metal fatigue followed by the wings tearing off a plane that was diving uncontrollably into the earth's upper mantle. No, it wasn't Steven Page from the Barenaked Ladies attempting to sing well.
That was me
, trying to push my lawn-mower.
When
I finished mowing my lawn for the 3rd time I carefully followed the instructions of the manual. I'm a by-the-book kind of guy. I enjoy keeping records and making lists and that sort of thing.
So
, after a total of 2 hours of mow-time, I did my first scheduled oil change on the new Lawn-Boy.
The 70 pound behemoth
is really giving me a workout as I compete with my 87-year-old retired army neighbour for the best-looking lawn.
Did I mention
my retired neighbour is a woman? And she's winning?
But I know
she's cheating due to her retirement status. Being retired results in many hours of available mowing time, while I'm trying to find ways to sneak out of work early so I can get home and play catch-up.
However
, my efforts seem to be in vain as my lawn is growing at an astronomical rate and hers resembles a golf-course green. I don't know how she does it.
I won't lie.
I admit that sabotage has crossed my mind. But then my senses get a hold of me and shake me back to reality.
And the reality is
, at 87, sadly, she doesn't have many mowing days left.