Lawn-Boy Customer Service
I bought
a new lawnmower. I didn't like it. I wrote a letter.
Re: Insight push-mower model 10671

Dear Corporate Lawn-Boy dudes;
Being a very happy, long-time Lawn-Boy owner, I decided to purchase another of your excellent products when I couldn't get parts for my 19 year old 2-stroke Lawn-Boy '19' with the offset wheel. I am extremely disappointed in the new mowers, due to their ridiculous weight. It seems that your designers spent more time focusing on their looks than anything else. Damn, they look good. (The mowers, not your designers.)

Question: Can you please tell me why Lawn-Boy doesn't make an aluminum deck any longer? And can you please tell me why someone at Lawn-Boy thought that a 70 lb. push mower was a good idea? Because it's not.

My old aluminum Lawn-Boy weighs 36 lbs with a full tank, while my new one weighs 70 lbs. Due to its heavy weight, I am having a rotten time trying to push this mower. Yes, I tried it out in the store and it moved well. But my yard is made of lumpy dirt & grass, not smooth concrete. Looking forward to your reply. Thanks in advance for your attention.
Martini
----------------
I got
a reply.
April 19, 2006
Dear Mr. Martini,

Thank you for contacting Lawn-Boy. Lawn-Boy prides itself in its reputation for producing products of high quality and reliability. We appreciate your taking the time to inform us of the difficulties you have experienced with your mower and to provide us the opportunity to resolve the matter to your satisfaction.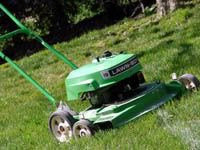 If you are looking for parts for your older Lawn-Boy and the parts have been discontinued, we can add you to our TOPS list. This list is sent to all the dealers across the country, and if the part is in their inventory they will contact you.

If you wish to be added to the list, please reply to this email or phone us at 1-800-526-6937, with the part number and quantity needed.

Regarding your inquiry on the weight of the 2006 Lawn-Boy models, they are made with the steel decks, as the aluminum decks were not ready for the 2006 market. The increase of engine horsepower and motor size will increase the weight of the machine, as well with the added safety devises.

We value you as a Lawn-Boy customer. Please know that you have an open invitation to contact us at any time.

Sincerely,

Kathy H.
Customer Care Representative
Thanks Kathy.
Steel you say? Gosh.