Electro Acupuncture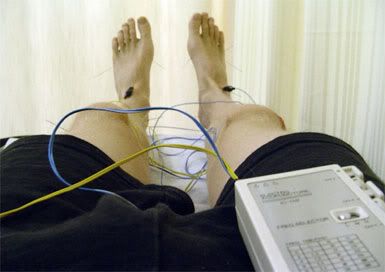 Every day
is a special day at the Needle Hut. Today was "Chopin Day", so I had the privilege of listening to the soothing melodies of Nocturne in C Sharp Minor Op.27 No. 1 while the acupuncture needles did their thing.
Acupuncture
is a regular thing for me now, after I successfully passed the acupuncture test. If you missed my first experience, read about it
here.
Since February
things have progressed with the adding of electricity: Electro Acupuncture. Basically, more power. Something Tim Taylor would appreciate.
In true
Doctor Frankenstein fashion, wires clamped to various needles in my feet ran back to the device, which sent out electric impulses via a 9-volt battery. It sounds painful, and it can be. But I get to control the output of the device, so I tend to go easy on myself.
To help distract me
from the throbbing electric impulses and my twitching, spasming toes, I focused on the serene sounds of Chopin's classic Sonata in G Minor (for Cello and Piano) Op.65.
Ahhhhh.
You
know what I'm talkin' about.
And
if that wasn't bliss enough, the Doc removed the needles and wiped up the blood to the tranquilizing measure of Nocturne in A Flat Major Op.32 No.2.
Talk about
relaxation.
All
this classical music brought images of Mr. Dressup to mind, which is not meant to insult the wrinkled, liver-spotted talent known as Chopin, who died at the ripe old age of 39. Instead, it's a compliment to those dudes who blasted Casey and Finnegan with Piano-action every day, making me appreciate a broader style of music.
Can you believe
there are some people who think that getting stabbed with needles and being forced to listen to classical music is torture? Weird eh?