Punks And Pumps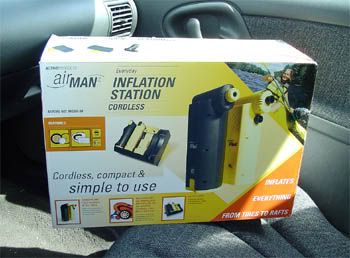 To finish
Home Improvement week, today's post was supposed to be about my doorbell and the punk-ass punks who broke it, but a funny thing happened. In an effort to eliminate all evidence of their wrongdoing, those punks apparently crept into my house, found the photo of my broken doorbell on my computer, and deleted it.
Which leaves me
with the story of how those same punks, or their genetically challenged cousins, snuck up my driveway and let all the air out of one of my tires on the weekend. I'm going to assume it was an April Fool's day prank, and not an attempt to kill me.
But their little prank
resulted in my first question: Why is it that NOBODY, not one single company, can make a functioning portable air inflation device? If you've got one that works, it's most likely a 12V unit that plugs into your car lighter.
The problem is
my car doesn't have a cigarette lighter, which seems to surprise everyone. As such, I need a rechargeable air inflation device. Suz bought me a great one for Christmas 2004. But 3 months later, it broke. For the next six months we searched high and low for the Crappy Tire receipt, but came up empty-handed. We couldn't return it, and I remained pumpless throughout the 2005 year.
When my Talon tire
went flat, I needed a new air pump. I looked for the one I had previously owned, but it isn't manufactured any longer, which is really no surprise. Every single one was probably returned in some sort of non-functioning state.
Currently
, Crappy Tire carries approximately 15 different air pumps. Thirteen were 12V lighter-dependant. One was the manual foot-activated kind, leaving only 1 rechargeable kind.
I bought it.When
I got the
Active Products
Airman "Inflation Station" home I discovered that the recharging station was totally damaged, and the batteries would not charge.
I returned it.On
Crappy Tire's shelves were 2 "Inflation Station" boxes. I took everything out of the 1st one to make sure it too, wasn't damaged. But it was. It was in even worse shape than the one I had bought.
I grabbed
the 2nd box and tore into it. Much to my surprise, everything was intact. When I brought it up to the counter I told the cashier that the other unit was severely damaged, and perhaps they should take it off their shelves.
She replied
with a shrug and an underwhelming "oh."
Which leads me
to my second question: why doesn't anybody give a sh*t? Instead of taking it off their shelves, they would rather sell it, then have an angry customer return it, causing more work for themselves?
What
is the world coming to?
And what is your opinion on home improvement stores?
Take my poll.
(It will open in a new window)