Shaving - Err - Saving The World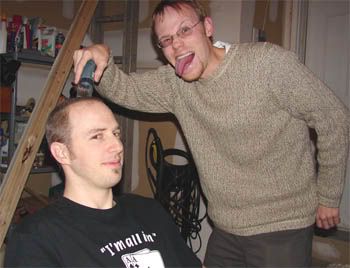 Lawyers, Accountants
and Entomologists everywhere have a newfound love for shaved heads. Boys, girls and everyone in between all across the land have a newfound love for shaved heads. Even doggies, ferrets and kitties have a newfound love for shaved heads.
And
it's all thanks to one "Prison Break" television program.
In light
of all this shaved-head-hubbub, I have invested in my own head-shaving shop. Welcome to Mad Martini's House of Shaving. Specializing in heads. Other body parts available upon request.
Testimonial
My first client, Krevin, of Krev-Co Industrires Inc., had this to say: "I didn't like my haircut, so I decided to shave it."
I felt
the enthralling adrenaline rush one gets from a job well done, and Krevin can bask in the glory of having a shaved head for the next 4 to 6 weeks. And not just any shaved head, but a work of shaved art that will have all the ladies swooning.
I, Mad Martini
, shaved-head artist extrordinaire, charge nothing for this service. My joy is payment enough. And the hair collected off the floor goes toward insulating my house, thus, saving me money in my heating bills.
As my natural gas
useage declines, the entire world benefits! Natural resources are saved for another day, and pollution such as greenhouse gas is reduced!
Do your part
in saving the world. Use your head. Shave it.