Stayin' Alive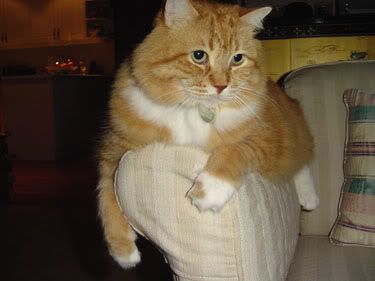 Fox (Mulder)
is alive.
Meet Fox (Mulder).
"Fox" for short. We used to be housemates, but his incessant alien-mouse-babbling and conspiracy-catnip-theory rants finally drove me to the brink. I moved out a few years ago.
But Fox
still lives at my parents house. And, yes, he's still alive.
His evil twin
used to roam the neighbourhood, often beating Fox up. But Fox can relax now, because his evil twin was killed on the weekend.
Everybody
in the neighbourhood sadly waited at my parents front door to tell them the horrible story of how he perished, and how they'll never see his adorable "heart-paw" again.
Luckily they were wrong.
Fox was safe in the house when his look-alike was killed. We were very happy, but sad and angry at the same time. The evil twin did not die a good death.
The ignorant
, colossally assholish owners of a German Shepherd allowed their dog to run free in the neighbouring park, ignoring all posted By-Laws stating dogs MUST be kept on a leash at all times.
The German Shepherd
instinctively chased after Fox's evil twin, who bolted for his life. Sadly, he made the unfortunate mistake of bolting across the road, directly in the path of a minivan.
Witnesses
to this horror verbally attacked the owners of the German Shepherd, and with good reason. Their ignorance of the law caused 4 things:
1.
A cat to die,
2.
The owners of the cat to feel terrible grief,
3.
The driver of the minivan to feel the same grief,
4.
Every onlooker to this event to feel sick to the stomach.
One witness
, in tears, grabbed the orange kitty from the road and drove it to a nearby vet, where his life slipped away, in the hands of two complete strangers.
Laws exist
for our protection.
It's good to remember that.