Ocean Blue Resort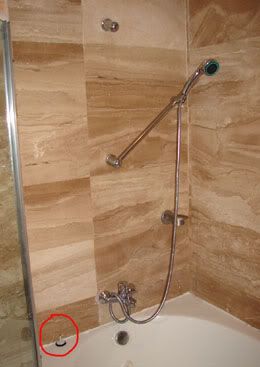 You can't
always believe what you read. I learned it the hard way.
Suz carefully read
hundreds of reviews on the best resorts in the Dominican Republic, and the Ocean Blue was clearly, hands down, the winner. The praise this 4-and-a-half star resort received was almost unbelievable.
What happened
to us seems pretty unbelievable too.
If our room
was any indication of the quality of construction of the 1-year-old Ocean Blue/Sand Resort, Punta Cana is going to have one less resort to offer next year.
Upon entering
our room, 2110, everything seemed normal. The bathroom was exceptionally fancy with the granite/marble floors, walls and counter top. Beauty is one thing, but if it really comes down to car-maker Saab's philosophy, I choose function over form.
Our bathroom
, essentially, did not work.
The first thing
I noticed was the broken drain stopper in one of our two sinks. Being a pretty handy guy, I crawled underneath the sink and reconnected the plunger bar to the drain lever. All fixed.
Problem 2
occured when, after a nice whirlpool bath, we found it impossible to drain the giant tub. The mechanical drain stopper (circled in red) was broken. For this, I had to call the emergency "Fix-It" extension. While we were out for dinner that night, an employee fixed the stopper. But this turned out to be a recurring problem.
Not wanting
to deal with it, we decided showers were a better idea. Oh boy, were we wrong.
The non-adjustable
shower head was affixed so that the showeree received a full-force blast of water directly in the face. Luckily the shower head was removable. Unluckily, the bar that held it to the wall was broken, and fell apart at the slightest movement. After each shower I had to Macgyver it back into place.
And
if those problems weren't enough, our plastic bathroom ceiling, pregnant with water, rained on us all week. Although I complained about this problem 3 times, it was never fixed.
When the resort
lost all water/plumbing for about half a day, I optimistically thought they were fixing our leak. I will never learn.
At night
, exhausted, I was happy to crash into bed for a great sleep, but it was not to be.
Even when
it was turned off, the epileptic light in the middle of our room flashed erratically, making sleep impossible. I imagine that the electric short was caused by the leaking water above us. Water and electricity are a bad combination. At least there was a fire alarm in our room.
Oh wait
, no there wasn't.
Surprisingly
, even though we had a non-functional, constantly breaking bathroom, I didn't yell. I wanted to. But Suz stopped me by shoving a ripe tropical papaya in my mouth. It took 4 days to get it out. By then we were back home.