Home Depot Update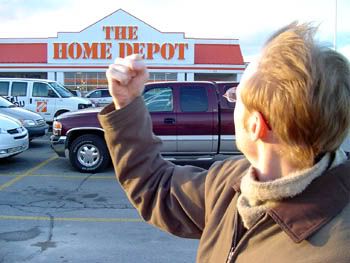 It's Home Improvment week
at DMC & ME, but today's regularly-scheduled blog had to be post-poned in order to bring you this special report on Home Depot. If you missed yesterday's post, be sure to
check it out.
Yesterday afternoon
I received quite a rotten surprise in the form a phone call from one of the managers of the Home Depot.
Like the
greedy box store that they are, the Home Depot reneged on their offer to exchange our incorrect toilet seat, claiming they made no mistake when ordering it from their distributor's book.
So
who made the mistake?
Was it me
, for ordering a toilet seat for a Kohler Rialto? Was it me, for asking if the French Curve was the only seat available? Was it Home Depot for telling me "yes"? Was it the company that printed the ordering books for Home Depot? Or was it Kohler, for not providing a list of the 4 seat options available for the Rialto?
I don't know.
But I do know that a mistake was made, and
not
by me.
When
I visited my local home improvement box store last night, I presented the problem to the assistant manager in a delicious, chocolatey fashion. Thankfully she was a sensible, intelligent, hungry woman who realized I should not have to pay for the mistake. Her customer service skills were second to none.
Not only
did she refund us the hefty sum we forked out for the French Curve seat, but she did not charge us the restocking fee either. And the icing on the cake was the
free
Brevia seat she gave us.
Which was in stock!
It turns out
the kitchen & bath rep we spoke to last week was wrong. Really wrong. We didn't even need to special-order the seat for our Kohler toilet.
When the nasty
, egotistical manager called me at work to tell me I was wrong, and they would not exchange the seat, I was ready to boycott the Home Depot for good. But thanks to a wonderful assistant manager with some common sense, I will be happy to continue shopping at their store.