New Bum-Rest For The Crapper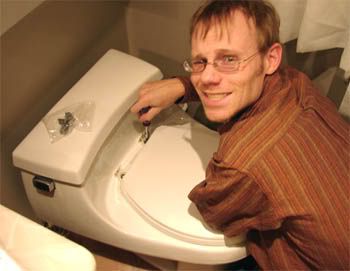 Welcome to
Home Improvement week at DMC & ME. Today we're going to learn about
Kohler
, specifically their line of toilet seats, and some of Home Depot's policies.
When
we moved
into our house in July 2005, the 1939 bathroom had been tastefully renovated, however, the toilet seat on our Kohler Rialto was damaged. The finish was peeling, leaving behind strange yellow stains.
Insert
pee joke here.
After months
of our guests wondering about our urination habits, Suz and I finally decided to replace the offending seat. Picking up an entirely new Rialto toilet at the Home Depot was no problem, but the seat itself was another story.
The seat
turned out to be a
"special order"
, which has some stipulations. If returned, the item is subject to a 15% restocking fee, which doesn't make sense because it was never stocked in the first place. However, we knew the toilet model, and were confident we would not be returning this seat.
The 3-week order
arrived 18 days early, much to our surprise. We picked it up and I set about installing it right away. While installing the seat I noticed it didn't quite match the previous seat. In fact, it didn't match at all.
During the test drive
I realized just how different this new seat was. The "French Curve" model tried to suck me into the water below with its powerful vortex. The downward curve was so severe (and perhaps my behind was so miniscule) that my life flashed before my eyes.
I struggled
to climb out of the toilet and instantly cursed it. Suz agreed with me. The Kohler Rialto French Curve seat was the most uncomfortable seat we have ever had the misfortune of sitting on.
Adding insult to injury
, we paid nearly $70 for this simple piece of molded plastic, approximately $50 more than most other seats. I called Kohler's 1-800 #. A really nice girl named Amy indicated to me that there are four spiffy seats that fit the Rialto.
The French Curve
The Lustra
The Cachet
The Brevia
Annoyed
that I was not offered any of these seats, I called Home Depot. After speaking to three representatives, including one manager, they decided to help me. They called Kohler themselves to verify what Amy said. Ten minutes later they agreed to exchange my used toilet seat.
So
if you see a French Curve seat offered at a discount, ask them if they bleached it.