DeLorean Debut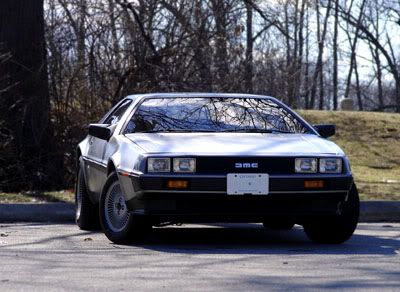 The DeLorean
has made its 2006 debut. The weekend was all about preparing my cars for spring, with various activities taking place to ensure maximum enjoyment from them.
I had some
battery-charging action going on in the DeLorean, which is a monstrous hassle. The battery is located behind the passenger seat in a small compartment under a wooden shelf, sealed by a thick plastic door, which is then covered with a flap of interior carpet. Under the carpet, three screws which hold the door in place must be removed. It's a tough job, but the hard work is worth it because the rewards are totally great.
After the battery
came the tires.
Inflation Station
was put to the test as I filled the front left tire with 32 psi of fresh spring air.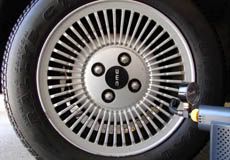 When everything
was ready, I prepared for awesomeness.
I fired
the beastly D up and watched as the exhaust spewed brown shit all over my bike, my hydraulic jack, and other bits of garage paraphernalia. The air filled with the scent of gasoline.
The engine rumbled
as I slowly pulled out onto the driveway. Birds scattered into the air from their tree and rooftop perches. Children's street hockey games paused while they listened in fear. Elderly neighbours closed their blinds and turned off their hearing aids.
But once
the sleeping beast woke from its winter slumber, it became less and less cranky. As I drove down the street, people pointed and smiled. The D wasn't so scary any more.
And so
, with hibernation ended, I took it for a fairly long drive. It felt good to be behind the wheel again, and I will take it for another drive this weekend.
So
have a happy Easter everyone! I know I will.
Labels: DeLorean