Good Insight On Fuel Savings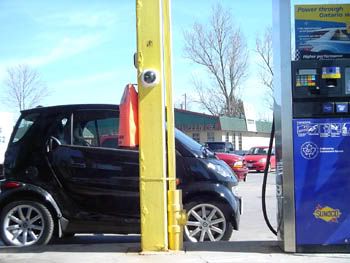 It amazes me
that I had better foresight than all of the white-collars at Mercedes.
Mercedes has announced
that it is cutting back their line of SmartCars. Apparently they have been losing money on the tiny car since they launched the two-seater in Canada. This is no surprise to me, since I have
always questioned
the Smart's introduction to Canada.
It seems
Mercedes overestimated North American sales due to its popularity in Europe. But like I said, it's great for tiny countries with tiny streets and other tiny vehicles. Canada is not such a country.
For 2006
, Carguide Magazine rates the SmartCar at 61 mpg city and 74 mpg highway. In the same issue, the fabulous car with technology of the future, the hybrid Honda Insight is rated at a whopping 72 mpg city and 86 mpg highway, which almost makes the Smart seem like a guzzler in comparison.
Well
, not quite.
But, considering
that the Insight shuts off automatically at stop lights, cutting its already phenomenally low emissions output to zero, it seems that this is truly the car that will lead us into the future..... of environmental friendliness anyway.
But you'll
have to pay for the better technology.
The Insight
, whose 73 horsepower and 91 lb-ft. of torque blows the Smart's 40 hp and 74 lb-ft. out of the water, lists for about $6,000 more than the "Passion", the most expensive version of the SmartCar.
The SmartCar
runs on Diesel fuel here in the great white north, which is no longer the bargain it used to be. Diesel fuel is usually on par with regular grade 87 octane gasoline, however, sometimes it's even more expensive.
Which might explain
why I saw a girl fill up this SmartCar with gasoline instead of Diesel last week. Oops!