Fuel Of The Future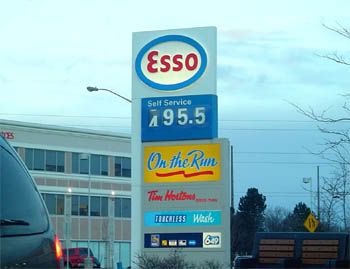 Gas prices
have been fluxuating recently, but are generally on the rise. This Esso station was in the process of lowering its prices from 595.5 to 495.5 cents per litre.
Talk
about gouging.
At $4.95
and a half cents per litre, it would cost you $247.75 to fill the 50 litre tank in your 2003 Cavalier. My old 1987 Jeep YJ, with its 75 litre tank, would take $371.62 worth of gas. And, at 16 mpg highway, that would only be good for a trip to Toronto and back.
Okay
, so the sign was just a little bit wrong.
But imagine
what it would cost to fill your car with anything else. Mustard? Ketchup? BBQ sauce? Olive Oil? Milk? Wine? Coffee? Melted ice cream? You're talking hundreds of dollars.
Considering these prices
, we are lucky gas is so cheap. Bottled water from a vending machine is around $1 or $1.25 per 500 mL bottle. That's around $2 per litre. A 355 mL can of pop from the same machine is about $1, therefore filling your tank with Coke would cost about $3 per litre.
There are
few things which cost less than gasoline. Maybe some cheap perfume? Maybe not. But urine is free. If only Japan could invent an engine that ran on #1. The world's gas stations would be replaced by massive bathrooms, with pee-hoses running out to your car.
Pulling over
at the side of the road for an emergency pee break would look a whole lot different, too. And writing your name in the snow would be a terrible waste of fuel.
We can
only hope, and dream. And when Mr. Fusion finally arrives, I'll be the first to slap it on
my DeLorean
.