The Honda Insight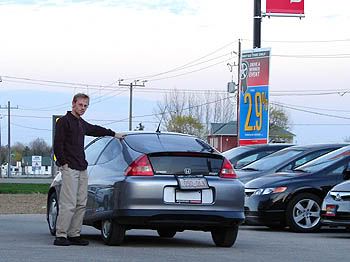 The last time
I drove a Honda Insight, I was laughing all the way. Not because the car is comical, but because it - in a word - rules.
So, on the weekend
we decided to go into a local Honda dealership and order a new 2006 Insight. They list for $26,000, which, according to the sales guy, is a few thousand less than what it costs Honda to build one.
But
that is what's so great about the Honda company. They want the title of the most fuel efficient car in the world, or at least North America. And they're so committed that they are willing to build the Insight at a loss.
How
awesome is
that
?
During the buying process
we learned one thing we were not expecting. The Insight, in Canada, is only available as a 5-speed. Had we gone through with it, our 2006 Insight would have been partially hand-built in Japan in the same plant that builds the
NSX supercar
. But Suz wasn't sure she could drive a standard, so we postponed the special order.
2 days later
we found a used Insight at a distant Honda dealership. With only 58,000 kms, it was a steal at $12,950. We immediately took the 90-minute drive to the dealer to test the aluminum wonder.
We hopped into
the immaculate silver hybrid and were impressed with it's cleanliness. It appeared as though it was pampered. However, a minute into the test drive we were overcome by an intense, grey, prickly cigarette smell.
I drove
down the country road with the digital speedometer displaying 100 kph until I noticed I was still in 3rd gear. A quick jab into 5th shut off the "shift up" light.
Yes
, the Insight tells you when you're being bad.
Suz and I
took turns driving it around a tiny residential neighbourhood. I paid attention to our fuel consumption gauge the entire time, recognizing an average of 3.9 litres per 100 km. With a 40 litre tank, we could travel 1,025 kms (or 636 miles). Yet even with my right foot straight to the floor, and tires squealing, we never exceeded 5 and a half litres per 100 km.
In the end
, Suz didn't feel comfortable driving standard so we decided not to buy one.
We drove
220 kms round trip, and burned about $25 worth of gas, to test-drive one of the rarest cars around (Only 344 in Canada). And it was worth it, even if we didn't buy it.