Lawn-Boy Update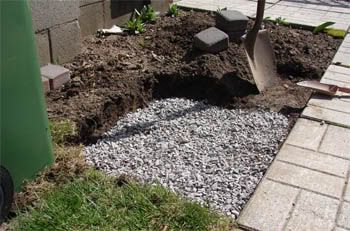 Sittin' in the backyard
all alone, I decided to dig a hole, then fill it up with stones. When I was done, it didn't look too fab, so I covered it up with a white concrete slab.
The patio slab
looked dumb, and I wasn't sure what to do, so I covered
it
up with the BBQ! The BBQ is sweet for cooking food and stuff, but all that pointless work was really really tough.
-----------
Yesterday
I sent another email to Lawn-Boy Customer Service, which read:
Kathy,
Thanks for your reply. I would appreciate being added to your TOPS list. However, I don't know what parts my Lawn-Boy needs. The shop informed me that they could not get parts for it any longer, but they didn't indicate which parts they needed. (They told me the spark plug itself has not been available for over 12 years, so I had to clean it myself in order to get another season out of the mower.)

How can I be added to your TOPS list without knowing the parts I need?
Martini
--------------
You may notice
some similarities between
their first letter
, and their newest response:
April 20, 2006
Dear Mr. Martini,

Thank you for taking the time to contact Lawn-Boy regarding your Lawn-Boy product.

If there is a certain part that you require that is no longer available, we can place you on our obsolete parts list to see if any dealer may have the part in their shop and they will in turn contact you. Currently, we are not producing any aluminum deck mowers. Please check back early in 2007 to see what our upcoming products are.

We value you as a Lawn-Boy customer. Please know that you have an open invitation to contact us at any time.

Sincerely,

Chris S.
Customer Care Representative
-----------
Um
......okayyyyy.
I really respect the companies that hire the mentally challenged.