David Suzuki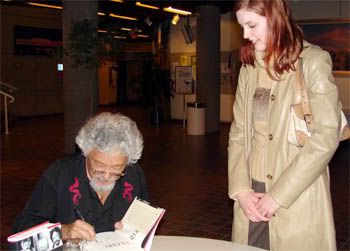 On the weekend
Suz and I attended the first of a series of new lectures by environmentalist, scientist, TV-show dude, and all-around cool guy, Dr. David Suzuki.
The sold-out
, standing room only event was held in a large conference room inside the RBG, which was the subject of
an earlier post.
Part of the ticket price we paid went towards the rental of the facilities, while the remainder (around $2,500) went towards the David Suzuki Foundation. For saving the world and stuff.
Suzuki is cool
because he speaks his mind without caring what others think, and he does so without any hint of arrogance which makes you want to smack other scientists. He is the kind of guy that you wouldn't necessarily want as your dad, but maybe an uncle, or really close friend.
As a result
of his brain being so big and juicy, he is often defending himself from famished Zombies, usually around Halloween.
That's likely
one of the reasons he travels to other countries, such as Brazil, and befriends native tribal leaders. He offers them protection from devastating modern progress in exchange for potions and trinkets that repel the undead. He stays for a while to ensure he has prevented the looming tragedy which drew him there in the first place, then once the Zombies have caught his scent, he disappears to another country.
These
are not things he readily discloses, but when he tells of his foreign adventures, I know how to read between the lines.
His lecture
, which ended in a standing ovation, was followed by an autograph signing. Everybody queued up before Dr. Suzuki and his table. Suz brought her copy of Dr. Suzuki's most recent book: The Autobiography, and quickly jumped in line. I sat back and waited.
After he
autographed her book with his caligraphy-type pen, we climbed into our car and drove home, polluting all the way.
------------------
If you think
saving the environment is totally awesome, visit David Suzuki's website,
www.davidsuzuki.org